Our A8 frameset is from the new breed of aero framesets. Road bike frames that are designed to be fast, letting you set those Strava KOMs, but also designed to be comfortable so that you actually enjoy your time out on the saddle.
We construct the A8 frameset out of high modulus Toray T700 carbon fiber. Our engineers have found the T700 fiber great for working with and perfect for laying up into aerodynamic shapes. Our tapered headtube is a case in point and is shaped perfectly to cut through the air and allow our aero fork to meld into the frame, making the frame and fork look as if they are one.
As you would expect we used our knowledge of internal cable routing to give this frameset clean ports and an easy to use internal routing system. To add to the clean and modern look, we dropped the seat stays. This also has the benefit of helping to stiffen up the back end of the bike, and for the aero advantage, it will give you.
Being as we wanted the frame to be stiff to help you set those Strava times we have fitted a BB86 bottom bracket to this frameset. BB86 allows us to build a big and stiff bottom bracket area, as we are creating a bigger area it allowed our engineers to add more aero refinements to the down tube and bottom bracket area. It also allows us to fit huge chainstays to make sure that we can send all your power to the back wheel to help propel you along the road.
Frame Specs
Material
    100% Carbon Fiber Toray T700 
Frame Model
     A8
Fork Model
     AO008
Weave
     UD Matt/Painting
Available Size
     51cm/54cm/57cm/59cm
Design Wheel/Tire Size
     700C x 25mm
Headset-Upper
     1-1/8''
Headset-Lower
     1- 1/2"
Seatpost
     27.2mm
Stem Clamp
     31.8mm
Dropper Compatible (Routing)
     Yes, internal
Bottom Bracket
     BB86
Front Spacing
     100 x 9 mm
Rear Spacing
     130 x 9 mm 
Bottle Mounts
     2 per frame
Frame Weight

 51cm: 1074+-30g;
54cm: 1114+-30g; 
57cm: 1144+-30g; 
59cm: 1154+-30g

Fork weight
     360+-10g
IS ICAN WHEELS AND FRAME GOOD?
YES! Many customers have purchased wheels and frames of ICAN Cycling, and they give us many good feeback.All products undergo strict quality control and provide two years warranty.
WHY THE SAME PRODUCT HAS DIFFERENT PRICES
The prices of the same products in different warehouses are different. We have prepaid taxes and freight for users who purchase products in overseas warehouses.
WHY THE WHEELSETS ARE TOO STIFF FOR HARDTAIL
The reason may be that the spokes tension of wheels is too high. Please check that the spokes tension to make it at a the proper range.
Why do i feel the freehub is a bit tight when backpedal
When riding for the first time, freehub needs to run in with the wheels. Just ride for a while, freehub will run well.
WHAT IS DIFFERENCE BETWEEN AERO OR AERO SPECIAL?
Let us take Aero 40 and Aero 40S as an example. Have a look for their difference.
WHAT'S THE DIFFERENCE BETWEEN ICAN'S RIM ROAD WHEELS?

About the difference,you can check out the info from the image.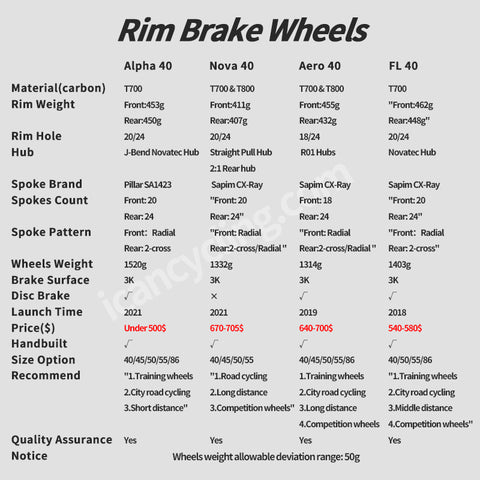 What is the difference between Alpha Disc and Aero Disc
The main difference between theses carbon road wheels is rim,spoke,hub.

1.Aero disc is lighter than Alpha disc,Aero disc use our superlight carbon rim. Alpha disc use our fast and light normal carbon rim.
2.Aero disc integrate Sapim CX-Ray Spokes,Alpha disc integrate Pillar SA1423 Spokes.
3.Alpha Disc with ICAN D21 Hub, Aero disc with ICAN D01 Hub.
CAN ICAN WHEELS BE SET UP TUBELESS?
For ICAN's current line up of wheels, most of wheels is tubeless compatible. 
What is the best tire size for my ICAN wheels?
The best tire size for your wheel, which depends on the wheelsets type, size and the conditions you plan to ride the wheel in.
If you focus on speed,aerodynamic, each carbon wheel will have a specific recomended tire width, which is listed on specific product pages under rim specs.
We find(Not necessarily 100% correct):
With a broader external width, ICAN Cycling wheels roll most optimally with a 25mm/28mm (actual width) tire.
For Jet wheels, we recommend 25mm (actual width) tires, but 28mm (actual width) tires are still an excellent choice.
Unless a podium step hangs in the balance, the difference in the speed of the Jet, using a 25mm tire versus a 28mm tire, works out to only 0.05 kph. That's approximately 3 – 4 seconds over 40km.
What is the recommended tire pressure
If you want the right tire pressure,please read the guide for recommended tire pressure.
What is the suitable spokes tension
MTB Wheels the front spoke tension :110 +-10 kilograms force
Rear wheel drive side :120 +-10 kilograms force
No drive side Rear :60% kilograms force of drive side Rear-wheel
Road bike wheels spoke tension:
front wheel: 110+-10 kg force
Rear wheel: 120+-10 kg force
Recommended maximum spokes tension: Less than 145 kgf.
HOW TO SET UP TUBELESS TIRE TAPE?
More info about tubeless tire tape,to read the guide
How to track my order online?
Once your order has shipped, a Shipping Confirmation email is sent to you with the tracking website and the tracking number. You can use this tracking number to track your order via the carrier's tracking site.

What is the processing time and delivery time for my order?

We will ship out the item within 36 hr with careful package after the processing time .and it takes about 3-10 days if the stock running out. The delivery time will epends on the courier method.
Noted:Due to the impact of the epidemic, the arrival time of the goods will be delayed.Due to increased demand, this product will ship in 7 – 8 weeks. If have any questions,please contact us in time.
How to pay by credit card without paypal account
You can pay by credit card without paypal account. Check the payment guide here.
People who bought this product also bought