29er XC Trail Wheels
29er XC Trail Wheels
Product Code: XC29-28/28-30-M81-SAP-IC-9/135-SH
Availability:Out of stock
Have a question?
Are you racing XC? Are you going for long marathon style days in the saddle or thinking about endurance racing? If any of these options are you, then you will benefit from our 29er carbon fiber mountain bike wheels, they will keep you spinning for longer.
Being made of carbon fiber, these wheels will be expensive though? Nope, we use our extensive knowledge of building carbon fiber bike parts and combine that with not sponsoring a team or a marketing department and can then get you great wheels at a very affordable price.
As we are sure that these wheels are high quality and will last, we offer a 2-year guarantee on them. Our carbon fiber 30mm wide rims means that you can have that carbon quality ride feel that aluminum cannot match. Hit a rock, and you will find out why carbon fiber is quality as you are not standing at the side of the trail having to fix your bike.
This reliable rim though would be nothing without a reliable hub. That is why we connect the rim via Sapim Leader spokes to Powerway M81 hubs. These hubs are a great mix of lightweight and reliability thanks to their sealed bearing design, 2 in the front hub and 4 in the back hub. To make sure they work with your bike the rear hub can come with either a Shimano freehub or an SRAM XD driver. The wheels are also available in a traditional quick release or 15mm front thru axle and rear 142 x 12mm thru axle.
Specification
Type
 Carbon MTB wheelset
Materials

 100% Carbon Fiber Toray T700

Size
 29er
Rim

 Finish: UD Matt

 Width: External 30mm 

Depth
 25mm
Profile
 Clincher Tubeless Ready
Hub

 Powerway Hub

 M81


 Front: 150g        

2 sealed bearings




 Rear:  252g       

 

4 sealed bearings

 Quick Release:

 9*100mm/9*135mm

 Thru Axle:

 15*100mm/12*142mm

 Color: Black

Spoke
 Sapim Basic Leader Round Spokes
Spoke Count
 Front: 28
 Rear: 28
Spoke Pattern
 Front: 3X cross


 Rear: 3X cross

Nipple
 

Aluminium


 Color: Black
Cassette

Compatibility

 Shimano  10/11 speed

 Sram XD Driver 10/11 speed


Disc Mount
 

6 Bolt

Weight
 Total: 1710g
 Front: 790g
 Rear: 920g
Maximum Spoke Tension
 360kgf
Roundness
 <=0.5mm
Offset
 <=0.2mm
Guarantee
 2 years
Package Include
 

1 set of wheelset




 1 set of skewer

Packing Size
 81.5cm x 17cm x 65.5cm
IS ICAN CYCLING WHEELS AND FRAME GOOD?
YES!Many customers have purchased wheels and frames of ICAN Cycling, and they give us many good feeback.All products undergo strict quality control and provide two years warranty.
What is the best tire size for my ICAN wheels?
The best tire size for your wheel, which depends on the wheelsets type, size and the conditions you plan to ride the wheel in.
If you focus on speed,aerodynamic, each carbon wheel will have a specific recomended tire width, which is listed on specific product pages under rim specs.
We find(Not necessarily 100% correct): With a broader external width, ICAN Cycling wheels roll most optimally with a 25mm/28mm (actual width) tire. For Jet wheels, we recommend 25mm (actual width) tires, but 28mm (actual width) tires are still an excellent choice. Unless a podium step hangs in the balance, the difference in the speed of the Jet, using a 25mm tire versus a 28mm tire, works out to only 0.05 kph. That's approximately 3 – 4 seconds over 40km.
HOW TO DISTINGUISH DISC BRAKES AND V BRAKES
Our disc brake product series are marked with disc, which means that this is a disc brake system. Otherwise, this product is a V brake product.
WHY THE SAME PRODUCT HAS DIFFERENT PRICES
The prices of the same products in different warehouses are different. We have prepaid taxes and freight for users who purchase products in overseas warehouses.
WHY THE WHEELSETS ARE TOO STIFF FOR HARDTAIL
The reason may be that the spokes tension of wheels is too high. Please check that the spokes tension to make it at a the proper range.
Why do i feel the freehub is a bit tight when backpedal
When riding for the first time, freehub needs to run in with the wheels. Just ride for a while, freehub will run well.
CAN ICAN WHEELS BE SET UP TUBELESS?
For ICAN's current line up of wheels, most of wheels is tubeless compatible. 
WHAT'S THE DIFFERENCE BETWEEN ICAN'S SERIES PRODUCTS?

About the difference,you can check the image.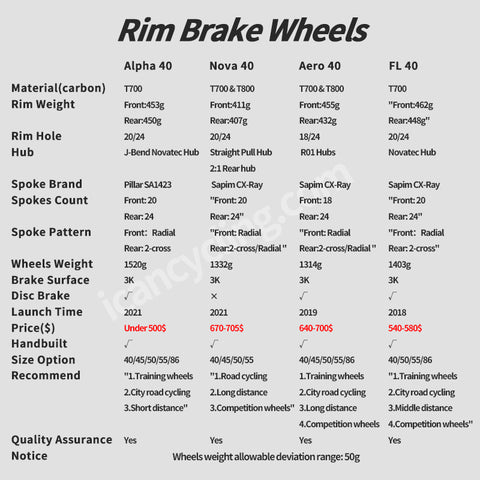 What is the difference between Alpha Disc and Aero Disc
The main difference between theses carbon road wheels is rim,spoke,hub.

1.Aero disc is lighter than Alpha disc,Aero disc use our superlight carbon rim. Alpha disc use our fast and light normal carbon rim.
2.Aero disc integrate Sapim CX-Ray Spokes,Alpha disc integrate Pillar SA1423 Spokes.
3.Alpha Disc with ICAN D21 Hub, Aero disc with ICAN D01 Hub.
What is the suitable spokes tension
MTB Wheels the front spoke tension :110 +-10 kilograms force
Rear wheel drive side :120 +-10 kilograms force
No drive side Rear :60% kilograms force of drive side Rear-wheel
Road bike wheels spoke tension:
front wheel: 110+-10 kg force
Rear wheel: 120+-10 kg force
Recommended maximum spokes tension: Less than 145 kgf
How to track my order online?
Once your order has shipped, a Shipping Confirmation email is sent to you with the tracking website and the tracking number. You can use this tracking number to track your order via the carrier's tracking site.

What is the processing time and delivery time for my order?

We will ship out the item within 36 hr with careful package after the processing time .and it takes about 3-10 days if the stock running out. The delivery time will epends on the courier method.
Noted:Due to the impact of the epidemic, the arrival time of the goods will be delayed.Due to increased demand, this product will ship in 7 – 8 weeks. If have any questions,please contact us in time.