AERO 50 Disc
AERO 50 Disc
Notice:The AERO 50 Disc Wheelset located in China warehouse.We deliver it from China.
You can buy it from our overseas warehouse:
Product Code: 50C-24/24-D01-SAP-ICAE-9/135-CL-XDR
Availability:In stock
Have a question?
Our new for 2019 Aero 50 disc brake hub might be one of the best, and lightest, carbon disc brake wheels on the market just now. A 50mm deep section wheel that will help you cut through the air. Our new Aero series is based upon our best-selling Fast and Light series, but we made one significant improvement.
Our FL disc series was constructed out of Toray T700 carbon fiber. We used T700 as it allowed us to build a stiff and strong wheel rim. A rim that would not flex when you put the power down. A wheelset that could secure tubeless tires safely. A rim that helped to smooth turbulent air.
We wanted to keep all these great features but save some weight. We looked at our layup to see if it could be improved. After a lot of work, we discovered that the best way to lose weight was to combine Toray T700 carbon fiber with T800 carbon fiber.
The mixing of the fibers allowed us to build a wheelset with all the great qualities of the FL series but save around 100g per wheelset. Who wouldn't want to save 100g?
To go with our new Aero rim, we have a new disc brake hub. We have gone lighter with our sealed bearing hub as well. Our new D01 hub will take you further and longer before you need to service it and being of the sealed bearing variety that is very simple.
To lace our hub to our carbon fiber rim, we are using aero Sapim CX-Ray spokes. We can find no other spoke that combines the lightweight and stiff qualities of CX-Ray spokes.
These wheels have our two-year warranty. We stand behind our products.
Specification
Type

 Carbon Disc Wheelset

Rims
 Superlight AERO 50
Material

 100% Carbon Fiber Toray T700 & T800

Size

 700C

Rim

 Drills: 24/24 Holes
 Outer Width: 25mm

 Inner Width: 18.35mm

Depth

 50mm

Profile

 Clincher Tubeless Ready 

Hub

 ICAN D01 Hubs

Spoke
 Sapim CX-Ray Spokes
Spoke Count
 Front: 24   Rear: 24
Spoke Pattern

 Front: 2-cross  



Nipple
 Alloy  Color: Black
Cassette Compatibility
 Shimano 10/11speeds
Wheelset Weight

 Total: 1456+-20g (Centerlock, 12x100/12x142mm)

 Front: 658+-10g  Rear: 798+-10g

Braking Surface
 No Braking Surface
Recommended Tyre Size
 700 x 25-40mm

Rider Weight Limit

 105

kg

Guarantee
 2 years
Package Included
A pair of Wheelset (Thru Axles are not included)
Packing Size
 81.5cm x 17cm x 65.5cm
Purchase Notes
Please use black rubber if use tubeless tyre. Tight the valve before pumping.
You can Buy this wheelset from our overseas warehouse!

Enjoy free taxes, quicker shipment, included freight!
The Aero Series rims materialize from a combination of Toray T700 and T800 carbon fiber cloths. A marriage of these carbon cloths produces a lighter end product in comparison to a rim made only from Toray T700 carbon fiber cloth. The Aero Series rims is 25mm wide. Wide rims offer less rolling resistance and superior stability.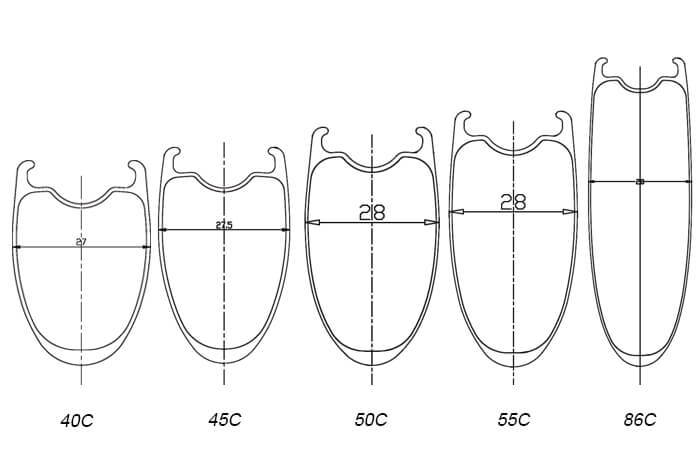 ICAN D01 high-performance hubs which promote the effortless transition of power and smooth freewheel action.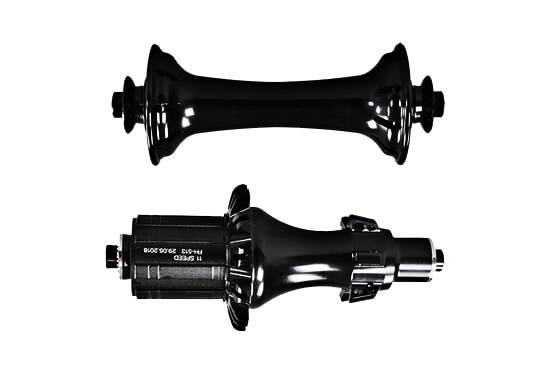 Sapim CX-RAY As light as a titanium spoke
The CX-Ray still receives the best results in fatigue testing of any spoke. The CX-Ray aero spoke combines excellent aerodynamics with low weight and great strength. Not only are they more aerodynamic, they also make wheels lighter and stronger. Its unique strength and flexibility make the CX-Ray suitable for most bicycle disciplines. CX-Ray spokes are used by top bike racers and triathletes around the world.
ALLOY STRAIGHT PULL DISC HUB 
Front: Sealed Bearings 2, weight: 85g 
Rear: Sealed Bearings 4, weight: 238g
Sapim Secure Lock nipple is a locking mechanism that prevents nipples from untightening. Secure Lock nipple can achieve a stable and well defi ned deformation on the thread. Each nipple has an additional locking resistance of 18 +/- 3 cNm.
RIM:

Tubeless-ready – designed to work excellently with normal clincher tires and tubes or tubeless tires.

Toray T700/T800 UD, 3K weave carbon-fiber on brake Track

50mm deep super-wide rounded aero section

25mm outer and 18.35mm inner width ideal for 25-40mm tire widths

SPOKES:

Diameter: 2.0 - (0.9x2.2) - 2.0 mm

Strength on middle section: 1600 N/mm2

No extra hub hole design; hub manufacturer's guarantee is unaffected

More long-lasting than any other spokes on the market

Straight-pull for excellent torsional strength and direct power transfer

Special alloy treatment and sophisticated production

Produced from high-tensile, fatigue-resistant 18/8 stainless steel conforming to the Sapim quality standard specifications

Hub

TaperLock spoke interface

Forged and CNC'd 6061-T6 heat treated aluminum alloy body

3x treble-tooth pawl engagement for instant acceleration - 7.5 degrees engagement

7075-T6 aluminum alloy axles

Steel Spline Insert freehub body reinforcement provides excellent durability against cassette sprocket damage to the freehub often seen on standard alloy freehub bodies

Straight pull hub, high quality Japanese sealed EZO bearings

Nipple


Can be used on truing machine
No loose function while truing the wheel
Available on most current Sapim nipples
Easy to recognize
Tire

The maximum tire pressure for this rim is 120psi when used with an inner tube and 100psi when running the wheel set-up tubeless. 100 psi is more than enough for any rider on the road

Maximum tire pressures for other tire sizes: 30mm do not exceed 80psi, 33mm do not exceed 60psi, and 35-45mm do not exceed 40psi
Please do not exceed the maximum pressure stated on your tire
Suitable for tires from 25mm up to 40mm wide.
What is the Payment Methods
We accepts the following payment methods:Gift Card, VISA, Mastercard via Paypal online. also if you want WESTERN UNION service or Bank Transfer.Just Contact us.
If have any problems during the payment process, please dont hesitate to tell.
Taxes
All ICAN products price we quote to the customer does not include taxes except the oversea warehouse products.
Before placing an order, please check out whether the goods you bought are available in our overseas warehouse.
Tax and shipping fees for all products are free in local overseas warehouses.
Shipping Worldwide
We ship to all countries by China EMS. Once we get your order we will ship out the frame immediately begin custom hand-building your wheels with the options you've selected. We ship out your wheels by China EMS and always provide a tracking number.
About the ICAN small item, we will ship out by E-packet or DHL,which will take 12-20 days.
Attention: If you want super fast shipping time, then ICAN offer DHL shipping service, it will just take 3-5 working days, pls contact us to get the shipping price.
Important reminder: Due to the epidemic, freight rates have risen rapidly.
Currently, China EMS has suspended services.
The Process Of Return And Exchange
Warranty Policy
ICAN warranty their products against manufacturing defects for a period not to exceed three years, from the date of purchase. During that period, ICAN will replace or repair(when possible) the defective part.
Every ICAN frame and rim has a useful product life cycle. Each bike, frame and rim will have a unique identification number and warranty card. Complete the provided card and warranty form, and send them to us. Failure to use the provided warranty card will void your warranty. Save your dated receipt for proof of purchase.
Product Group:
Frame and Rim
Applies to all ICAN and Triaero brand bike frame, and FL series, AERO Series and Nova Series rims.
Coverage: 
*Note:Standard Rims(23mm rim wide)have 2 years warranty
**3-year Warranty from the date of purchase applies to items purchased from 07/01/2020 forward.
Conditions:
If any manufacturing defect occurs within 90 days of the date of purchase, is obligated to replace the rim(s) and also pay for the shipping cost. If any manufacturing defect occurs after 91 days and up to 3 years, ICAN is obligated to replace the product(s). The product owner is responsible for shipping costs.
If we no longer make the rim you purchased we'll upgrade you to the newest equivalent model at no extra cost.
The Standard Warranty program is not transferable and only applies to the initial purchaser.
This warranty does not cover:
Normal wear and tear (bearings, spokes, nipples, brake tracks, tires, inner tubes, pawls, freewheel bodies, seals, rim tape etc.)
Products which have been incorrectly installed and/or adjusted.
Issues brought about by neglect or poor maintenance.
Surface finish and cosmetic treatments (anodizing, decals, etc.)
Crash damage.
Consequential or incidental damages (where applicable)
The following will void your warranty
Misuse (Jumping, trick riding, etc.)
Modification of wheels
Tire pressure exceeding 140psi
Improper assembly
Installation of parts or accessories not originally intended for, or not compatible with the wheelsets sold.
Use of brake pads not designed for carbon wheels
Crash Replacement Policy
The Crash Replacement Policy is to cover accidental crash or mis-use such as casing a big jump or drop, accidents, rock strikes etc.
Product Group: All bike frame and rims on our website.
Discount: 15% discount of the retail price.
Conditions:
The Standard Crash Replacement Policy is not transferable and only applies to the initial purchaser.
Any problem found on the warranty replacement product should be claimed within 7 days after the replacement is received, otherwise, the replacement is viewed as settled. The warranty period applies to the original purchase date and does not reset with a replacement rim.
Please note that you are responsible for any associated shipping costs, customs, and duties.
One Year  Warranty
Product Group:
Components and accessories
All ICAN components, such as but not limited to the following: fork, seatpost, stem, handlebar, saddle, headset, and crankset.
NOTE: All ICAN items are warrantied under normal use.
All cracked or damaged products or photos must be sent to ICAN Factory to analyze. If the frame or rims are deemed to be damaged or cracked do due to excess abuse by the owner, then the warranty on those parts will be null and void. However, ICAN may offer a discount for the replacement parts.
If have any questions,please contact us at info@icancycling.com
Returns
ICAN make a careful test and check before every single item is shipping. In case of bad luck that you receive, ICAN items in broken or defective quality would like a return or replacement. Please contact us within 3 working days and show us as much as possible proof, photos, videos etc.
If it is your problem that you don't want to pick the item up, but we have delivered the item; or you don't want the item and just want to return, like some customers may order the wrong item but find it after receiving, customers need to pay for the return freight, we will refund you the money of the item, not including the shipping fees. Because this is not the problem of manufacturer's, hope you all can understand.
New items or Repaired items will be shipped to you as soon as we receive the items for replacement.
After we get the items, then we will process the refund for the item and the return shipping cost within 3 business days.
1. How to track my order online?

Once your order has shipped, a Shipping Confirmation email is sent to you with the tracking website and the tracking number. You can use this tracking number to track your order via the carrier's tracking site.

2. What is the processing time and delivery time for my order?

We Will Ship out the item within 36 hr with careful package after the processing time .and it takes about 3-10 days if the stock running out. the delivery time will be 7-15 days.
Noted:Due to the impact of the epidemic, the arrival time of the goods may be extended, and the specific details can be communicated at any time

3. How will you package my goods ? Is it safe for them to reach me?

We use new packing box which is much more stiff and secured. It will protect the carbon products from the possible violently throwing and pressure during the shipping progress.