Who are ICAN Cycling
Shenzhen ICAN Sport Co.,Ltd, located in Shenzhen, is the best manufacturer for carbon wheelsets,carbon frame and carbon bike parts, which is one of the most influential carbon bike manufacturers in China.

ICAN Sport Co.,Ltd Found in 2009, more than 200 workers, producing about 1700 pcs carbon frames and 2000 pcs carbon wheelsets per month.

ICAN Cycling is one of our famous brands abroad.We are committed to producing bicycles with the best quality and competitive price. Our dream is to let every bicycle enthusiast enjoy the fun of riding.
Our Goals
As a carbon bike OEM manufacturer,We are committed to making ICAN our best Carbon bike brand.
Our goal is to become a respected brand and allow cycling enthusiasts to buy high-end bike products at affordable prices.
Values And Ambitions
We have always followed this motto: "Quality first, Prestige Highest Customer first."
ICAN Cycling committed to provide the best carbon bike products to customers. We are aiming for a position as iconic brands respected by cyclists everywhere as a top producer of carbon cycling equipment. 
We look forward to seeing the existence of ICAN in every corner of the cycling world.
Company History
We started in 2009, as the Shenzhen ICAN Sports Equipment Company Limited, making bicycle wheels. Since then the product line has expanded, and the original ICAN foundation has grown into a powerful and popular brand, with a wide international marketing reach.
Right now, at the design and manufacturing complex in Shenzhen, more than 200 workers construct some 1000 wheelsets per month, as well as 1800 frames of all types. Frames make up 30% of our production at present, but this figure has begun to increase rapidly with the advent of the TRIAERO frame brand.  
International Marketing
ICAN's advanced wheels and TRIAERO carbon frames continue to give satisfaction to recreational and competitive cyclists all over the world – in locations including French, Germany, Italy, and Singapore. Our warehouses serve customer needs from bases in California, the UK, Japan, Canada and Sydney, Australia. These units offer fast, free shipping – and prepay any local taxes. On this website, there's a live display of international customer transactions, as they happen. 
Cutting-edge designs 
The ICAN and TRIAERO design teams dream up innovative, top-notch items which keep happy customers coming back for more performance boosts. Our engineers are continually pushing the design envelope to make products lighter and stronger than ever – at a reasonable price.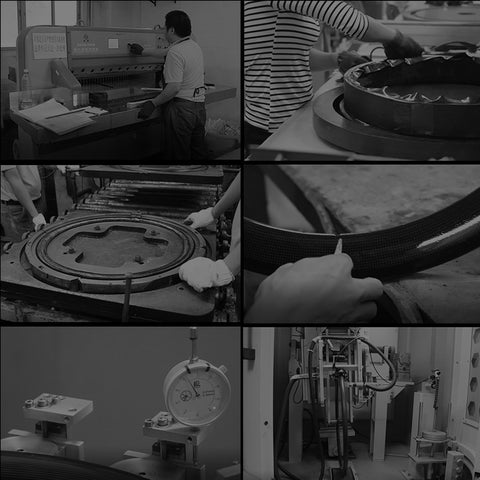 The online buyer of an ICAN wheelset can choose from a long list of carbon wheels, all designed and spoked for specific cycling purposes and activities – to be as stiff, light and comfortable as the rider requires. Our designers are well up on the latest research on the aerodynamics of the combined tire and rim cross section. It should look like a teardrop, not a light bulb. This profile also provides low rolling resistance for greater speed. The ICAN wheelsets are built with a range of quality hubs and spokes, from prestige international brands such as Sapim and Novatec. 
Professional equipment
We take pride in our innovative frame designs. The new TRIAERO A2 road frame weighs 800 grams. An upgrade would be impossible, as this professional machine is ready for any grand tour. The lightweight Rocket SL and Triaero models are specifically designed for races with long mountain passes and uphill finishes. These designs are inspired by the latest research findings on frame performance.
The world of mountain biking
Branded MTB frames from Shenzhen come in as many variations as there are off-road cycling disciplines. You'll find everything from hard-tail to full suspension frames, and every possible kind of MTB frame. The Shenzhen experts turn out a wide selection of MTB frames, which range from boosted 29er rigs to fat bike beach cruisers and dedicated cyclocross mounts. The frame geometry has been thought out very carefully and tested by our designers to provide stability and steering responses best suited to the event, be it single track, downhill, or MTB stage races. Wheelbase, over-locknut measure and steering geometry play prime roles in the success of these frames. In many cases they are available in a wide choice of stand-over and stack height measurements – not just a limited small-medium-large range of frame sizes.
No-compromise designs       
Our special frames for track and time trial events are focused sharply on performance. Our aggressive track frames and ICAN wheels have been designed and tested to provide the ultimate in lightweight, stiffness and power transfer. These modern frames give competitors an advantage, with sensitive handling, steep tube angles and close-coupled wheelbases. For the race against the clock, the Arrow X time trial machine is a masterpiece of aerodynamic design, with a disc rear wheel, and a rear brake mount down behind the bottom bracket. This frame is intended to shave minutes and seconds off a top cyclist's solo times.
Our partner
Why Choose ICAN Cycling?
1.High Quality
ICAN was founded in 2009, specializing in the production of carbon wheelset, frames. Over the past 10+ years, ICAN always follow "Quality First,Customer First".Our mission is to provide racer with high-quality products. We strictly control every production process.Our wheels are hand-built by real master wheel builders.
2.Affordable Price
The fact that we are a specialist manufacturer without shops and massive marketing budgets allows us to keep our products affordable.
3.Excellent Service,Real Warranty
One to one after-service, Always answer your questions in time.Product warranty policy to make you buy with relax.
4.Your Needs,My Motivation
We have developed a variety of specifications of products, you can always find the prouduct you want. We understand your needs better.