The best affordable carbon MTB wheels in 2021.
At here,you can buy the high quality carbon XC/Trail/Enduro mountain wheels  under 1000$ online. 
Currently the carbon mtb wheels are the most affordable mountain wheels you can find on the market.The carbon wheels are equipped with advanced Sapim Basic Leader Round Spokes, high quality carbon rim and Novatec Hub.
It's time to strat carbon MTB wheels
If you want to make cycling mountain bikes uphill more fun? The best and easiest way to do this is to get a new set of wheels, especially a set of lightweight high-quality carbon fiber mountain bike wheels.
The issue with many lightweight wheels is that they lose their ability to be stiff as they have had too much material shaved away to make them light.
Not so with ICAN wheels. We have used our leading carbon fiber technologies to make wheels that are as stiff as possibly can be and as light as they possibly can be. The lack of side to side movement is what you need in order to climb efficiently uphill, any sideways movement and your effort will be wasted. However, we still have some vertical deflection built into our wheels, without this deflection the wheels will not be able to absorb bumps in the trail. This is the carbon ride feel that you will heard fabled talk about.
If you have never used carbon mtb wheels, it will be time to upgrade your bike wheels. You will enjoy an unprecedented riding experience, comfortable and light.
How to choose c
arbon MTB wheels
In order to make it easier for you to pick a wheel to suit your needs, we have split our wheels into MTB enduro wheels,MTB trail wheels and MTB XC wheels.
The Enduro wheels have a wider rim and a higher spoke count. This makes them slightly heavier and slightly stronger than the XC wheels. Pick the style that suits your riding style and then pick a size, 26er, 650b or 29er.
As well as size the wheels all come in a variety of axle sizes and freehub body designs to make sure they can fit any bike setup you may have. All wheels except for the 29er AM Enduro Carbon Wheelset come with Powerplay M81 hubs, the 29er AM Enduros coming with a comparable Novatec Hub.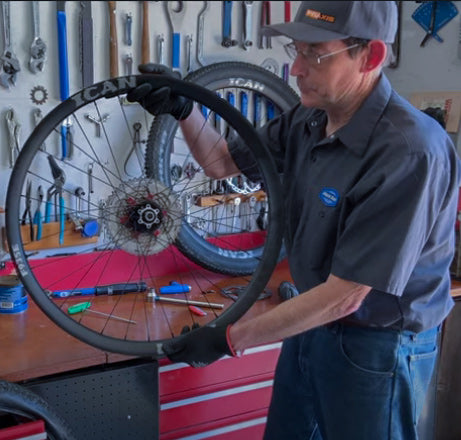 Carbon MTB Wheels have better characteristics and are better performance than ordinary MTB Wheels, which is the reason why it is more expensive than aluminum alloy and material MTB Wheels.
Carbon fiber has better strength and extensibility.It can be seen that Carbon MTB Wheels will become the mainstream wheelset in the future.XC carbon wheels will be lighter than enduro wheels.
The main difference between MTB enduro wheels, MTB trail wheels and MTB XC wheels is the number of spokes and the weight of the rim.The brands of all components used by the carbon wheels are the same.Customers can choose according to the riding scene.
How to know your MTB wheels is high quality?
An important factor for the quality of MTB Wheels is the wheel components used in the wheel set, including hub, freehub, spokes, nipple, rim, etc.
A perfect MTB Wheels needs high-quality wheel parts. Therefore, when we check whether MTB Wheels is worth to buying, we can consider what accessories the wheels use. If these accessories come from high-end brands, the quality of MTB Wheels can generally be guaranteed.You can buy the high quality Carbon MTB (Mountain Bike) Wheels below 1000$.You do not worry about our quality.And many experienced rider have use it very well.
The Carbon MTB Wheels Review
ICAN F935E Chinese Carbon Mountain Bike Wheels Review by Jim Langley
Carbon Mountain Bike Wheelset - Ride & Review By Crown Performance
What is your opinion about Novatec hubs for the wheels?
Our customers have thousands of miles on Novatec hubs and they have had no issues with any of them. I think they're very nice quality hubs. Hope this is helpful.
More option for carbon MTB wheelsets
We have designed wheels with different widths including 30/35mm/45mm according to the different needs of customers, and wheels with different riding scenarios including enduro, trail, XC moutain.