AERO Disc Wheels
If you want to go fast, these are the wheels you need. Our Aero disc brake wheelsets will be your best choice. The series of wheelsets builds on the success of our Fast and Light disc series. Aero disc wheels are lighter than other disc brake wheels.
Lighter than FL disc series wheels
ICAN Aero disc wheels takes the Fast and Light blueprint and makes it lighter. You'll be saving around 100g per wheelset with the Aero range. We managed to do that by changing the carbon fiber layup on our rims. The FL range solely used Toray T700 carbon fiber, and the Aero rims use a mix of Toray T700 and T800 carbon fiber.
Support Tubeless Tire
The mixing of carbon fiber still allowed us to keep the modern, blunt aero shape and provide a rim that is tubeless-ready. As they are tubeless ready, we have made them a little wider to allow you to get the full benefit from wider tires and lower air pressure.
High performance Hub 
You'll also be able to pick hubs that suit you and your budget. The Aero range is available with our own sealed bearing D01 disc brake hub; this is used on the most affordable versions of our Aero wheels. If you fancy something different, you can then pick from a pair of DT Swiss hubs.
Sapim CX-Ray spokes
All of our Aero wheels feature Sapim CX-Ray spokes. These aero spokes lead the industry in lightweight and strong spokes.
Why ICAN Aero disc wheels is good
The Aero disc brake rims materialize from a combination of Toray T700 and T800 carbon fiber cloths. A marriage of these carbon cloths produces a lighter end product in comparison to a rim made only from Toray T700 carbon fiber cloth. The Aero Series rims is 25mm wide. Wide rims offer less rolling resistance and superior stability.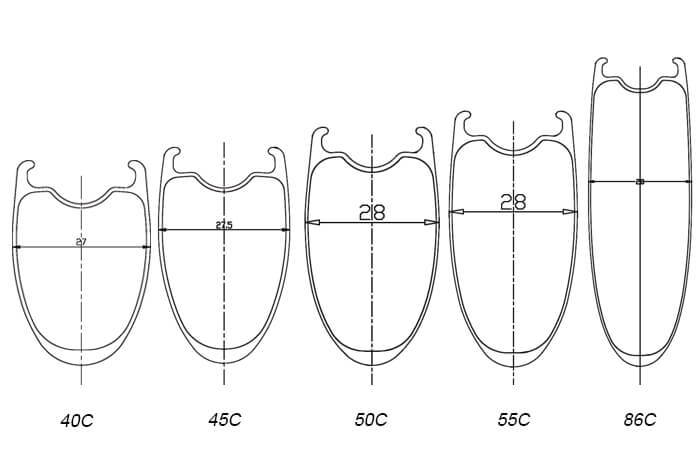 ICAN D01 high-performance hubs promote the effortless transition of power and smooth freewheel action.
ALLOY STRAIGHT PULL DISC HUB
Front: Sealed Bearings 2, weight: 85g
Rear: Sealed Bearings 4, weight: 238g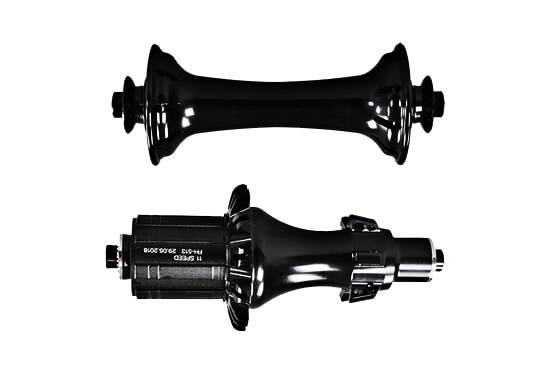 Sapim CX-RAY spokes:As light as a titanium spoke
The CX-Ray still receives the best results in fatigue testing of any spoke. The CX-Ray aero spoke combines excellent aerodynamics with low weight and great strength. Not only are they more aerodynamic, but they make wheels lighter and stronger. Its unique strength and flexibility make the CX-Ray suitable for most bicycle disciplines. CX-Ray spokes are used by top bike racers and triathletes around the world.
Sapim Secure Lock nipple is a locking mechanism that prevents nipples from untightening. Secure Lock nipple can achieve a stable and well-defined deformation on the thread. Each nipple has an additional locking resistance of 18 +/- 3 cNm.
RIM:

Tubeless-ready – designed to work excellently with normal clincher tires and tubes or tubeless tires.
Toray T700/T800 UD, 3K weave carbon-fiber on brake Track
50mm deep super-wide rounded aero section
25mm outer and 18.35mm inner width ideal for 25-40mm tire widths

SPOKES:

Diameter: 2.0 - (0.9x2.2) - 2.0 mm
Strength on middle section: 1600 N/mm2
No extra hub hole design; hub manufacturer's guarantee is unaffected
More long-lasting than any other spokes on the market
Straight-pull for excellent torsional strength and direct power transfer
Special alloy treatment and sophisticated production
Produced from high-tensile, fatigue-resistant 18/8 stainless steel conforming to the Sapim quality standard specifications
Hub

TaperLock spoke interface
Forged and CNC'd 6061-T6 heat treated aluminum alloy body
3x treble-tooth pawl engagement for instant acceleration - 7.5 degrees engagement
7075-T6 aluminum alloy axles
Steel Spline Insert freehub body reinforcement provides excellent durability against cassette sprocket damage to the freehub often seen on standard alloy freehub bodies
Straight pull hub, high-quality Japanese sealed EZO bearings
Nipple

Can be used on truing machine
No loose function while truing the wheel
Available on most current Sapim nipples
Easy to recognize
Tire
The maximum tire pressure for this rim is 120psi when used with an inner tube and 100psi when running the wheel set-up tubeless. 100 psi is more than enough for any rider on the road.
Maximum tire pressures for other tire sizes: 30mm do not exceed 80psi, 33mm do not exceed 60psi, and 35-45mm do not exceed 40psi
Please do not exceed the maximum pressure stated on your tire.Suitable for tires from 25mm up to 40mm wide.