X-Gravel Bike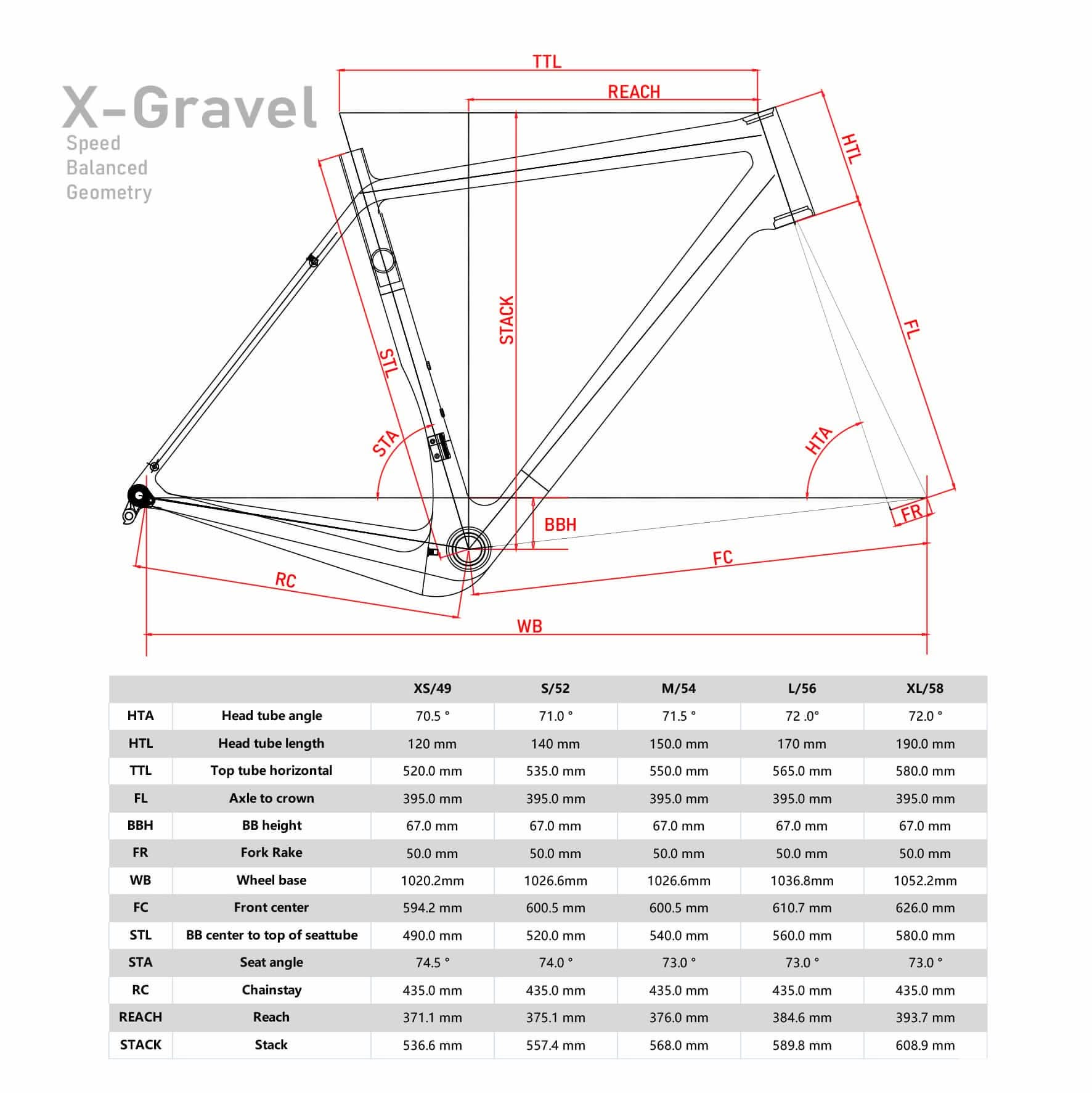 Frame: Carbon Gravel Frame /Flat Mount 140mm/12*142mm
Size and Weight: 
Frame painting Weight: 49cm-1190+-15g, 52cm-1210+-15g, 54cm-1230+-15g, 56cm-1240+-15g, 58cm-1270+-15g    
UD Matt Weight: 1071+-15g, 1091+-15g, 1111+-15g, 1121+-15g, 1151+-15g
Fork: Cables/Flat Mount 160mm/12*100mm, fork weight: 395g       
Drivetrain: FORCE1

Rear Derailleur: RD Force1 Medium Cagecassette
Chain: CN PC1170 114LI W/ PWR.LCK 11S 50PCS
Crankset: FC FORCE1 24MM 1725 XSYNC 46   BB PFGXP ROAD 86.5/WA91.5
Brakes: ESB HRD FRC ICJ REAR/RIGHT F0 1800/ DB HRD FRC CX1 ICJ FRONT/LEFT F0 800
Wheelset: AERO35C, Clincher Tubeless Ready, Superlight Carbon Rims/Novatec D411/412SB hubs, Centerlock/Sapim CX-Ray Spokes
Other:
Saddle: Full Carbon SD01
Stem: Carbon ST01
Handlebar: HB04, Full Carbon
Seatpost, Full Carbon SP01 27.2mm
Headset: Top & Down :1-1/8" 1-1/2"
Tire: 700 x 38C, Schwalbe  
Complete Bike Weight: 7.95kg (not including pedal)
You may ask
Are gravel bikes more comfortable ?
Of course,our gravel bike are comfortable.We use high-quality carbon fiber materials. which the whole car is strong and lighter.
What scenes are suitable for gravel bikes
Gravel bikes are suitable for a variety of scenes, roads, mountains, muddy paths, etc.,
Earlier, we talked about mounts, and the X-Gravel has them. You'll find three sets of cage mounts on the frame. There are rear pannier mounts, just in case you don't want to use bikepacking bags: Toptube bag mounts and three-pack mounts on the forks. Fork mounts are excellent and make carrying a lot of stuff so much easier.

The X-Gravel features 12 mm thru-axles and flat mount disc brake mounts. You're getting an up to date package that will allow you to have great braking. Excellent braking is one thing you'll be grateful for when you're descending an Alpine pass fully loaded.

The best thing for your mental health, though, is that the X-Gravel comes with a threaded BSA bottom bracket. You'll now not be bothered by a creaking bottom bracket. One of the worst things that can happen on a trip is a creaky bottom bracket. It can destroy the trip by slowly breaking down your mood, making it difficult to get on the bike in the morning. Say yes to quiet bottom brackets.
The Best X-Gravel Bike with good Performance 
Are you ever looked at Salsa gravel bikes and wished that you could afford their Warbird? That is the inspiration for the ICAN X-Gravel. The X-Gravel comes in at the same price as a Salsa Warbird frame. The ICAN X-Gravel bike frame comes in at the same cost as Salsa's aluminum offerings.

Which means if you buy an ICAN X-Gravel, you'll still have enough money left to buy all the bike packing peripherals that you'll need. You'll need a lot, and with a gravel bike not taking all of your budget you'll be able to get all the things that will help you out on the road.

About the ICAN  X-Gravel Bike 
frameset
The X-Gravel frameset is a beauty, especially in the rainbow colorway. It is not a case of fashion over function, though, and you'll find that the X-Gravel is constructed from high tech Toray T700 carbon fiber. The great thing about the ICAN model here is that we tell you what manufacturer's carbon fiber we use and don't try and hide it by giving it a marketing name.


If you want to buy  ICAN  X-Gravel Bike separately,this will be also fine. To buy here !
1. How to track my order online?
Once your order has shipped, a Shipping Confirmation email is sent to you with the tracking website and the tracking number. You can use this tracking number to track your order via the carrier's tracking site.

2. What is the processing time and delivery time for my order?

We will ship out the item within 36 hr with careful package after the processing time .and it takes about 3-10 days if the stock running out. The delivery time will epends on the courier method.
Noted:Due to the impact of the epidemic, the arrival time of the goods may be extended, and the specific details can be communicated at any time.

3. How will you package my goods ? Is it safe for them to reach me?

We use new packing box which is much more stiff and secured. It will protect the carbon products from the possible violently throwing and pressure during the shipping progress.
4.What is the best tire size for my ICAN wheels?
The best tire size for your wheel, which depends on the wheelsets type, size and the conditions you plan to ride the wheel in.
If you focus on speed,aerodynamic, each carbon wheel will have a specific recomended tire width, which is listed on specific product pages under rim specs.

We find(Not necessarily 100% correct): With a broader external width, ICAN Cycling wheels roll most optimally with a 28mm (actual width) tire. For Jet wheels, we recommend 25mm (actual width) tires, but 28mm (actual width) tires are still an excellent choice. Unless a podium step hangs in the balance, the difference in the speed of the Jet, using a 25mm tire versus a 28mm tire, works out to only 0.05 kph. That's approximately 3 – 4 seconds over 40km.