To name one single bike as the best would be an impossible task. And it would upset a multitude of designers, competitive riders and MTB fans. So here's the safest way to answer the question asked by our title – we will list five full suspension MTB bikes from the top bracket, and readers can make their own choice.
But first, let's answer this question: Who needs a full suspension bike?
Fat bikes use their humongous low pressure tires to soak up rear-end bumps. And riders determined to excel at climbing will happily suffer the odd hardtail knock --  for the sake of light weight. A sprung seat post might be all the shock absorber a dedicated hardtail hero needs.  
That leaves those sporting men and women who hurl their bikes down steep hillsides, rattled all the way by potholes, rocks and roots. And when you take off and land hard, a rear wheel with a shock and four inches of vertical travel will make the contact seem softer. That four inches won't seriously alter the bike's handling. And if you're in that category of gonzo rider, a  full suspension bike is a necessity. It may weigh a tad more than a hardtail, but it keeps the back wheel in contact with the earth, especially on twisting singl e track. Since you're not fighting gravity on a downhill route, an ultralight machine is not a priority.
The Pivot  Mach  4  SL.
Considering the sheer class of the fit kit,  it's a wonder this full carbon 29er retails for as little as  $6899. This  is a downhill bike all the way, with a wheelbase of just over a meter and a stable head tube angle of 68.5°. It has all the benefits of Fox Factory DPS front and rear to take up the shocks. Gears are Shimano XT M81 group including the cassette -- and a 34t chain ring by Race Face. Wheels are top class, with M1700  rims and 350 hubs from DT Swiss. This is a lightweight bike by double suspension standards. Medium size weighs in at just over 20 lbs.
The Specialized Stumpjumper Pro retails for $4000.
For that you get a 29er with a FACT 11m carbon frame. The new Fox Float Flex- Stay rear suspension has 140mm of travel. There's a flip chip to tighten the geometry. Wheels roll on 30mm Roval carbon rims and DT Swiss 240 thru-axle hubs. Front tire is a 2.3 inch Butcher with a Purgatory at the rear end. SRAM X01 Eagle handles the motive power, and also the braking. The Pro comes in six sizes with a Fox transfer Factory dropper seat post. The Specialized titan saddle helps this lightweight  to shed grams.  
ICAN XC full suspension MTB
The ICAN XC full suspension MTB is a top class cross country machine, for only $3240. It comes in four sizes as a 29er or with 27.5 wheels. The boosted frame features thru-axle ends and a solid Toray carbon fiber lay-up. At 13.2 kg,  this is not the lightest MTB but one of the toughest when surviving rough terrain. Suspension is RockShox front and rear, and running gear is by SRAM, with Level brakes and complete carbon cockpit fit kit from ICAN. The 945 wheelset features 28 Sapim spokes front and rear, with ICAN 50mm tubeless-ready carbon rims and DT Swiss hubs.
IBIS Ripmo V2 xT
The IBIS Ripmo V2 xT is a full carbon trail-cum enduro 29er which will set the purchaser back $6899. But you  get what you pay for and this is a top machine. It's a downhill rocket with a wheelbase of 1238 mm and a slack head angle. Suspension is DW-link, from Fox Float, working with the upfront Fox Float fork to smooth out the bumps. Complete weight without pedals is 31 lbs. The machine sports an alloy wheelset with Ibis hubs -- carbon rims are also available. The groupset is Shimano Deore, as are the brakes:  Deore XT M8120  4-piston mechanisms with RT86 rotors. The saddle's a Silverado.
Santa Cruz Carbon 5010
For a start, it's versatile, with such a blend of handling characteristics that one might almost call it an xc design capable of doubling as trail bike – and vice versa. The carbon of the frame has a layup which Santa Cruz calls C. This yields a frame which weighs 280 grams more than the C C version, but stiffness never comes into question. The total bike less pedals weighs 30.84 lbs. That's the S variant this article is focused on, retailing for US$ 5799. There's an R variant which costs US$ 1000 less, and weighs about half a pound more, with a less exotic fit kit.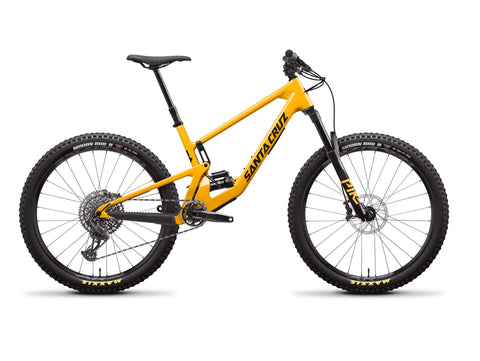 Geometry is carefully thought out, with a BB height of 338mm and a 65.7º head angle. Seat angles in the seventies keep riders of all sizes on top of their work. Wheelbase varies according to the five sizes on offer, ranging from 1128 mm to 1255mm. Other measurements such as the low stand over, short chain stays and top tube vary in proportion. Handling was the Santa Cruz designers' priority, for all statures of rider.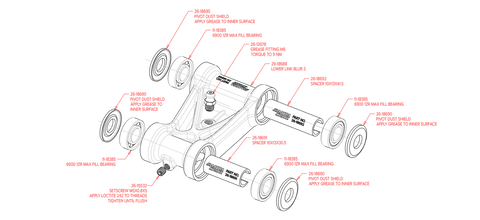 Wheels are 27,5 inches with Maxis Minion DHR II 2.4 inch rubber front and rear, on Race Face rims laced to DT Swiss 370 hubs with Sapim Race spokes. Running gear is basically SRAM GX Eagle with a 32t chainring and a 10t to 50t cassette. Brakes are SRAM G2 R, with stopping power courtesy of Avid Centerline rotors. At the front end of the cockpit there's an 800mm Burgtec alloy bar and stem, on top of a Cane Creek headset. The rear end features a Siverado Pro saddle on a 31.6mm RockShox Reverb stealth seat post.
So far, so good – this is not a cheap bike, but you get the performance you pay for with these specifications. Suspensionwise, up front you have a RockShox Pike Select with 140mm travel. At the back, a reliable Virtual Pivot Point suspension takes care of the bumps. This tough system has been tested over twenty years, and can be tuned to suit individual riders. It's easy to service at home. And Santa Cruz gives it a lifetime guarantee. A VPP mechanism keeps the rider in the saddle, and encourages him or her to really put the hammer down over rough terrain.
There are more expensive bikes on the market with exotic components. And many are cheaper than this Santa Cruz Carbon 5010. But when we sum up all that went into this dream machine, it is hard to deny that it is in the absolute top rank. And maybe, just maybe it could be the top MTB available –  for a majority of the men and women in off-road cycle sport .