A complete guide about carbon road wheels
Wheels made from carbon fiber are the dream component for the typical cyclist because of the numerous advantages it poses.You need great wheelsets to enjoy a smooth ride and more extraordinary performance, be it for leisure or competitive cycling. Moreover, carbon fiber is the most popular and sorted material in the bike industry. It can be used in several other components in a bike.
However, when it comes to quality wheels for bikes, your choice is between a carbon road wheel or an alloy wheels. Both can offer outstanding performance, but carbon road wheels have proved their superiority. This does not render alloy wheels totally useless; you might find them appropriately meant for other purposes.
But this guide discusses carbon road wheels, and it seeks to inform readers on what carbon road wheels are and provide substantial knowledge enough to help you make decisions.This article will be the best complete guide to teach you how to choose the carbon road wheels! You will know the everything about the carbon wheels.
What is the carbon road wheels
As the name suggests. Carbon road wheels are bike wheels assembled from carbon fiber material, which are composed of carbon rim, spokes, hubs, and quick release
Carbon road wheels are the most popular riding component for racers now. We can't ignore it. If we have a better understanding of carbon road wheels, you won't have to spend thousands of dollars to buy a carbon road wheel.
As racer all know, there are many options available for the road bike wheels. Just looking through all the options can be a highly confusing task, and once you put a marketing spin on it, it just gets worse.
That is why we've put together the wheels buyers guide. Once we've broken down the terminology used, you'll find it easier to make an informed decision and buy the road wheels that best suit you.
If you are a pro cyclist, you probably don't need to be here. This is a phase of knowledge you must have been through. You can do well to share with amateur cyclists. Wheels are undoubtedly one of the most essential components of a bike. Once you have secured a good frame, you want to make sure the part that comes in contact with the ground is super quality as well and complements other parts. Carbon road wheels happen to be the standard for quality wheels for bikes.
Should You Buy Carbon Road Wheels
Carbon road wheels will consistently outperform any other wheel you use. As a long-time rider, I know how significant bike components can affect the performance of a bike. Two parts of a bike with the same price can perform with a vast difference. Carbon road wheels are that component you want to have on your bike. I'll list the features that make carbon road wheels better and why you should choose them:
Weight: Carbon road wheels offer the lightest weight you can find for bikes in spite of newer technologies seeking to make aluminum wheels lighter. Carbon fiber is the most lightweight material used in producing bicycle components and serves the purpose of helping the bike maintain a constant speed.
Aerodynamics: This is perhaps one of the most important things to consider in cycling. Carbon wheels are exceptionally aerodynamic as they help you maneuver air resistance and drag pressure. They ensure that you reach higher speed with lesser effort regardless of the terrain of the road you are riding on.
Impact Absorption: To have a smooth and comfortable ride, impact absorption is a very important factor, and you may want to go for carbon wheels for that reason. The impact absorption capabilities of a bike mean that the rider does not feel the impact from landing from small heights, rough terrains, etc. Carbon fiber is the perfect material to absorb impact from cycling.
Other features include efficiency, versatility, and design. Carbon road wheels generally offer the best features you could get out of bike wheels, and there's hardly a substitute for it.
Carbon fiber road wheels are becoming a trend
Carbon road wheels are pretty common with professional road riders. Amateur racers, sportive cyclists, and regular people with bikes are upgrading as they get to know more about bike components and weigh their options. In the pro circuit, aluminum rims do not have a stand, and they haven't won a race, except it's a traditional race for aluminum wheels.
However, carbon road wheels are, used by everyone, and their widespread dominance of other choices can be attributed to the growing preference in the bike industry and the availability of more affordable options. Carbon road wheels are the choice for many riders because the weight and stiffness improve the bike's handling and acceleration. In addition, carbon fiber is versatile and allows for wheels to be constructed into more high-tech aerodynamic shapes to help riders gain an advantage in specific races.
With competitive racing, you'd hardly see anything other than a carbon road wheel which means it's the go-to option for pro riders. And that decision influences several other people who happen to ride and need better wheels.
How do i choose the road wheels rightly?
Those info you should know before bought the wheels
Part 1 – How do you ride?
Part 2 – The Anatomy of carbon wheels
Part 3 – Wheel braking systems
Part 4 – Rim shapes
Part 5 – Tire types
Part 6 – What to use bike wheels for
Part 7 -  How pick carbon bike wheels well?
Part 8 - What is the reasonable price for carbon wheels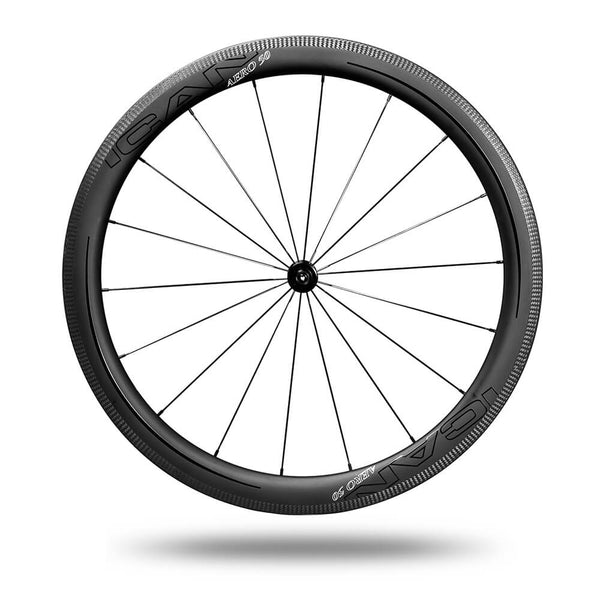 How do you ride
Before you begin to read the article, ask yourself a few questions first. By understanding how you ride, it will help the guide to point you in the direction of the best carbon wheelsets for you. Remember, there is no right or wrong answer to these questions.
Do you ride somewhere hilly/mountainous?
Is it windy where you live?
How would you describe your riding?
Do you plan on racing, and if so what type of racing?
Do you put a lot of miles in?
Where do you want to take your riding?
These questions and answers will all help to frame what style of carbon wheels suit you.
The Anatomy of carbon road wheels
Now you know that how you ride, it's time to choose a carbon wheel that suits you. We often feel that it is so difficult to choose a suitable carbon wheels.
but once you understand the anatomy of carbon road wheels, which will help a lot . We remember it:The best components,the best wheels.

But considering the budget, most of the time we consider the balance between components.
Once you understand the anatomy of carbon road wheels, you will understand how to choose carbon wheelset well. Use the right accessories and choose the right carbon frame according to your height, and you can ride on the road.
What are the parts of a complete carbon wheel? What is the structure? We will describe separately.
Carbon road wheels mainly contains the following components: carbon rims, bike hubs;bike spokes,braking systems and other components like freehub,valve etc.
The Main Components of Carbon Road Wheels
At this point of the article, it has been established enough that carbon road wheels are the best wheels for bikes. However, there may be a need to understand the components that make carbon wheels top-tier. A typical carbon wheel consists of a carbon rim, bike spokes, bike hubs, braking system, valve, freehub, etc.
The carbon rim is a hoop where the spokes go into. In some cases, it houses a tube, and it's the mainframe of the tire. The spoke goes into a deep section in the middle of the rim. It makes the rim form a U-shape. The rim must be sturdy to ensure that the pedal stroke reaches it and the road without deflecting any side.
The hub is the center of any wheel, and it comes in pairs. It is connected directly to the rim via the spokes and is connected to the bike frame via an axle that runs down to its center. The axle passes through some bearings and the freehub on the rear hub.
The freehub is meant to seat the cassette. It depends on a lot of criteria, and it's essential to know the axle style of the bike as it determines what to use for the road hub. They come in different bearings, and the primary purpose is to help reduce friction between the hub's shell and the axle.
Bike spokes are the slender pieces of metal that run from the hubs to the rims. They have three primary purposes, and if they don't serve one well, you have a terrible wheelset.
They reinforce the rim
They transfer power from the hub to the tire
And they support the weight of the rider
Braking systems have been discussed enough in this article, and they majorly serve the purpose of reducing speed.
Carbon Rim
Rims are a hoop that your spokes go into, and it holds your tire and in some cases a tube. Your rim will have a deep section in the middle, where the spokes enter and will be shallow at the edges, this will give your rim a U shape. Your rim will need to be stiff to help the power of your pedal stroke reach the tire and the road and not be deflected to the side. It is not easy to produce the carbon rim.
To know how to manufacture carbon rim
Hubs
At the heart of every set of wheels is a pair of hubs. The hub is connected to your wheel rim by spokes and is connected to your bike frame or fork by an axle that runs through its center. The axle will pass through some bearings as it goes through your hub, and on the rear hub, it'll also pass through a freehub.
A freehub is where your cassette will sit. You'll need to know whether your cassette will need a standard Shimano freehub, an SRAM XDR driver, or Campagnolo Ultra Drive. As well as needing to know this you'll need to know the axle style for your road hub.
The bearings in your wheels and freehub are there to help lower friction between your hub's shell, and it's axle. There are 2 main types of bearing found in your hubs.
Sealed, sometimes called cartridge.
Unsealed, sometimes called cup and cone or loose.
You'll tend to find unsealed bearings on cheaper hubs and sealed bearing on mid-level to high-end hubs. On our cost-effective and affordable hubs, we search out and used sealed bearing hubs. We want you to be able to benefit from the inherent qualities of sealed beings regardless of your budget.
On wheels such as our Fast and Light series wheelsets, you'll find high-quality Novatec 511/522 hub. These hubs are manufactured by one of the largest hub manufacturers in Taiwan, and you'll find their hubs with many other brands names on them.
As well as standard sealed bearing hubs, we also offer some of the most advanced hubs available on the market. Many of our high-end wheels, especially our brand new Aero range, feature DT Swiss hubs. DT Swiss hubs are simple to service and offer almost instantaneous connection when you pedal thanks to their Star Ratchet system.
Standard bearings will be constructed from steel. Now you'll also see ceramic bearings, which are constructed from ceramic silicon nitride (Si2N4). The main advantage of ceramic bearings is that they offer lower rolling resistance. The less friction you have in your hubs, the faster you'll go.
Bike Spokes
Spokes, or to give them their full name, tension spokes, are the thin pieces of metal wire that hold your hubs to your rims. Spokes have 3 main tasks. If they don't do 1 of them well, you will have a bad wheelset.
Reinforce your wheel's rim.
Transfer your power from the hub to the rim and tire.
Support your weight.
Spoke nipples
A spoke nipple will attach a spoke to your wheel rim. It is a threaded cylinder through which the spoke can be threaded. It can then be used to raise or lower tension in the spoke.
Braking systems
For qualified road bikes, Bike Wheel braking systems are very important braking safety systems, which show the quality and production level of the bicycle.
Road bike wheels are designed to allow braking by one of the two main types of braking systems used for road bikes. You will find your bike either has rim brakes or that it comes fitted with disc brakes. Both systems have their pros and cons.See the difference between rim brake wheels and disc brake wheels.
Rim brakes as the name may give away is brakes that use friction against your rim to slow you down. The pro to them is that they are very easy to set up and maintain. They will also be lighter than using disc brakes. The cons are that they will slowly eat through your rim, and will lose their stopping power in the wet.
Disc brakes are discs that are bolted to your hub and then slowed down by a caliper clamping them. The pros are that you'll get great braking power, regardless of the weather, and that you'll not find your rim getting eaten away. The cons are that they are heavier than rim brakes, and some people are slightly intimidated to work on the hydraulic version.
Which brings us to the fact that disc brakes come in 2 varieties. You get mechanical disc brakes, and you get hydraulic disc brakes. Mechanical disc brakes have the caliper controlled by a cable, and hydraulic disc brakes have their caliper controlled by oil pressure.
As well as 2 varieties of disc brake, there are also 2 ways that your rotor can attach to your hub. They are Center Lock and 6 bolt. A 6 bolt rotor attaches to your hub using 6 bolts. Center Lock rotors use a splined connection to attach to your hub.More info about the difference between Center Lock and 6 bolt.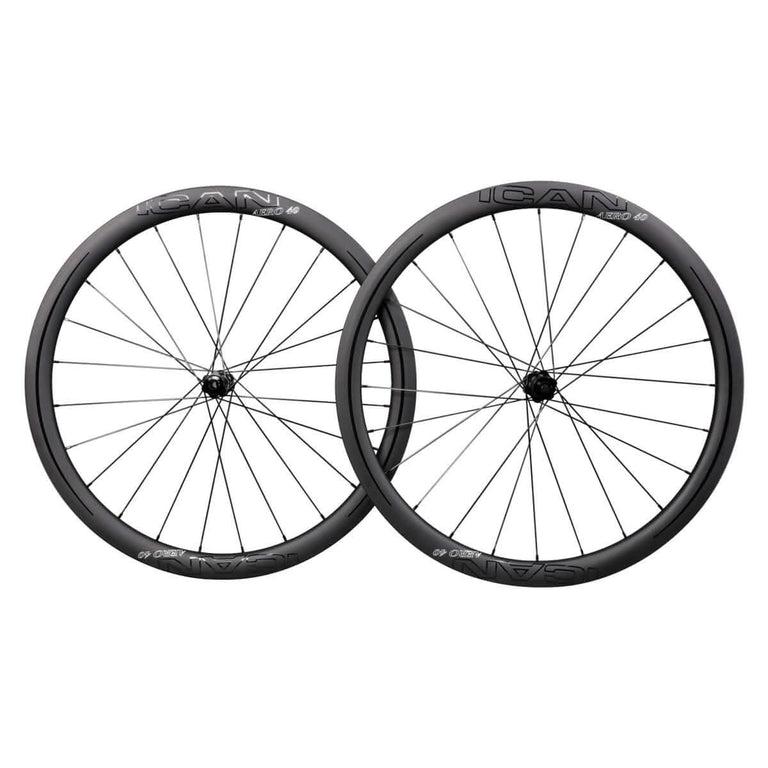 Rims profile
Based on the difference of the rim profile, Carbon road wheels can be divided into Shallow Section wheels, Mid section wheels, and Deep section wheels.
Aluminum rims tend to be a standard box shape, but carbon fiber rims come in a multitude of designs and styles. They can though be generally split into 3 categories. Those are shallow, mid, and deep section rims. These descriptions describe how big the rim is, and they all excel in different areas.
Shallow rims are great if you want to climb as they are the lightest style you can get. They look the most like a traditional road bike wheel rim. You'll find that they give you less of an aero advantage compared to other rim depths. A good carbon fiber rim will be much stiffer than an aluminum rim, and this should help to save you watts as you climb over mountains.
Mid depth carbon rims are rims that are 30mm to 50mm deep. These rims will be light, but they will also bring you an aero advantage, provided the rim is designed correctly. These rims will suit a rider who wants to ride everything and do it fast. They will be light enough for climbing and fast enough on that flat to let you easily keep up with everyone. They will also be less susceptible to the wind than deep-section rims, and the deeper rim will also make your wheel stiffer.
When wheels start to get above 55mm deep, they become deep section wheels. At this point, wheels start to become a little heavier and a lot stiffer. You'll prefer to use them on a flatter course, such as a crit or time trial. You'll also feel like you've added a motor to your bike when you first use a deep section rim. They will cut through the air, and you'll find it easier to maintain high speeds. They will not be wheels you'll want to take out on windy days.
Types of tire
The type of tire you'll want to run will determine the style of wheel rim you'll need. For road bikes, there are 3 styles of tire. You'll find clincher, tubeless, or tubular tires. If you decide to favor one style of tire over the others, you'll have to make sure you pick the correct carbon wheelset.See

the difference between Carbon Clincher Wheels vs Tubeless Ready Wheels

.
Clincher tires are the most common choice for bikes. It will be the style of tire fitted to the majority of complete bikes. Clincher tires are constructed with a bead that will clinch into the hook on your wheel rim. To get the tire to clinch, you will need to use a tube inside of it and fill it with air.
The pros of clincher tires are that they are easy to source, and they are very easy to fit. They will also be cheaper than the other style of tires. The main con is that they will be the heaviest form of tire.
Tubeless tires have been around for a while in the mountain bike world, and they are now starting to take over the road world. Tubeless tires are very similar to clincher tires, but as you might have guessed, they don't need a tube. They create an airtight bond between rim and tire and as such need a special rim that has been tested to make sure it is airtight and can deal with the stresses of tubeless tires. Most people will also add a little sealant inside the tire so that if you puncture, it will almost always seal straight away.
The advantages of tubeless are that it is harder to get flats, and because of this, you can run lower pressures which allow you to be more comfortable on the bike. As well as comfort, lower pressure will also increase your grip, and you'll find that they feel more supple than clinchers.
The con is that they are a bit harder to setup. Once you get past the setup and get sealant in, you'll tend to have fewer problems than other systems.
A tubular tire, or a tub or sew on, is a 1 piece tire. As the tire is 1 piece, you need a special rim with no hook. The wheel rim will look like a smooth concave at the top. You then have to glue or tape your tubular tire to the rim.
Your big pro here is that a tubular tire and rim will be lighter than those used for the other 2 systems. The lightness makes them feel smoother as you accelerate or climb. You can also run lower or higher pressures with the 1 tire, so racers like the ability to fine-tune their pressures.
The main problem is that they are harder to set up; the glue can get very messy and get everywhere. The tires are also expensive, and you'll generally have to send them away to get them fixed.
What to use bike wheels for
As we mentioned in the wheel section part, different wheels have different uses. You should pick the wheels that suit the majority of your riding unless you fancy treating yourself. We'll have a look at the different areas and discuss what wheels work best for that area.
The main thing you want from a climbing wheelset is lightweight construction. If you have to drag yourself and heavy wheels up a mountain, the suffering can make you hate the whole climb. A nice set of lightweight wheels will help you accelerate quickly out of hairpins and feel more responsive as you climb.
As you want to favor lightweight, you'll want to look for a set of shallow to mid section wheels. The more undulating the terrain, the more you'll want to move to mid section wheels to gain an aero advantage. If you have a day with a lot of climbing, you want to look at shallow carbon wheels. A good set of carbon mid section carbon wheels will weigh less than aluminum box section wheels.
Our carbon wheels keep innovating, and we believe that we offer you the best value road bike wheels in the world. If you need a set of climbing wheels, check our shallow section models. If you want the best climbing wheels check out our shallow wheels with DT Swiss hubs. Our Aero 35 DT Swiss will be a great model if you want to take your climbing seriously.
If you want to go as fast as possible or dominate your local Strava sections, then you'll want a set of aerodynamic wheels. These wheels will be mid to deep section rims. You'll want to look for a more blunt profile to the wheel rim. The older V-shaped rims have been proven not to be as fast as blunt rims. Ideally, the rim will also be a little wider to allow the air to easily flow over your tire and then straight over your rim.
If you need aero wheels, our new Aero series wheels will bring you all the speed you need. They are available in both rim brake and disc brake models to make sure that you can get the exact wheels to fit your bike.
If you don't want to wear out your good wheels, you'll want a set of training wheels. Training wheels will generally be cheaper than your good wheels. They will be wheels that you don't mind running through the worst of winter weather, and ideally, they will be cheap to service.
If you want a great set of training wheels, then our Standard series with 38mm deep rims will be a great all-round set of wheels.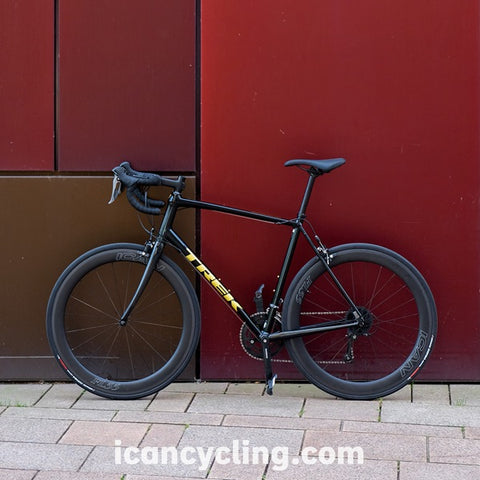 Adventure wheels will be between a shallow and mid section. You'll not want to go too deep as you never know when you'll have to fight against the wind. They will need to be tougher than your standard road wheels; generally, this will make them a little heavier. They should also have a wider internal width, and this will allow you to fit wider tires. Wider tires will bring you more traction and comfort when you're off out on your adventures.
Our Aero 35 Disc wheelset is a great wheel for those of us who want to ride on road but also don't mind occasionally venturing off the beaten track.
Now you have understood the anatomy of carbon road bike wheel. So how to choose the right carbon road bike Wheelsets for you is not conclusive. But what is certain is that if the components of your wheels are all brand manufacturers, it is very big Probably, the quality of Carbon road bike wheel will not be too bad.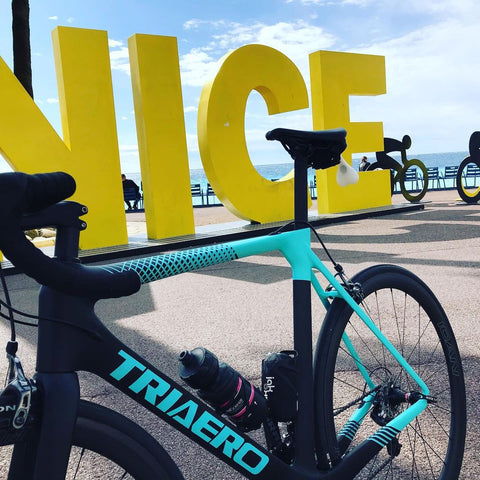 How to pick carbon bike wheels well?
Performance. Being lighter and more technologically advanced than other wheel materials, you'll find that carbon wheels bring you a performance advantage.
Comfortable. Carbon wheelsets have a ride quality that you don't get from other materials.
Quality. Carbon fiber manufacturing is constantly evolving, and as such, you can be sure that carbon wheels are always high quality.
Design. Carbon wheels allow engineers to fine-tune how they perform and feel, as such designs are constantly moving forward to make sure you always get the best performance.
Lightweight. If you want lightweight wheels, no other material will allow us to design you a lighter wheelset.
As we specialize in carbon manufacturing, we can work to make carbon wheels affordable.
The Factors You Should Consider When Buying Carbon Road Wheels
This article has provided a guide to help you understand carbon road wheels to the point where you can explain to someone else. However, buying one is different as you are exposed to various options that you will be confused as to which one to go for. There are multiple types and designs, so a simple difference in design could mean that the wheel is most appropriate for a specific purpose which may not be what you intend it for.
However, the main factors to consider before choosing buying carbon road wheels are:
Intended Usage: Carbon wheelsets may have different capabilities depending on how you intend to use them. You cannot compare a carbon road wheel intended for competitive racing to one intended for casual cycling. You'll need different rim profiles for various purposes, so it's worth considering.
Wheel Type: We have tubular, clincher, and tubeless wheels. They are all best for different specific reasons. Tubular wheels are the best for racing, and clincher wheels can serve all purposes. Tubeless wheels just don't have tubes and rely on an airtight seal. However, tubeless rims can host other wheels.
Brand Compatibility: If you're buying wheels for competitive purposes, it's important to note that some wheels work best when you buy their complementary components. It's rare, but you want to keep it at the back of your mind that compatibility is a thing with carbon road wheels too.
Cost: This basically has to do with your budget. Budget is always something to consider in every purchase decision. Will you need to save more, or you don't need something so expensive that you could easily just buy it at that instance.
How much is it reasonable to spend on a carbon road wheel?
There is big difference price between different band of carbon road wheels in the market. Some carbon wheels cost a few thousand dollars, and some carbon wheels only cost a few hundred dollars.
China is currently the largest country to manufacture carbon road wheels in the world! Many famous brand carbon wheels supplier find the foundry here.whcih means you can buy carbon wheels in China to enjoy the high quality of a famous brand wheels.
Generally speaking, 500$-1000$ is the reasonable price for a pair carbon wheels.If you have specific customization needs, 1500$ -2000$ is enough.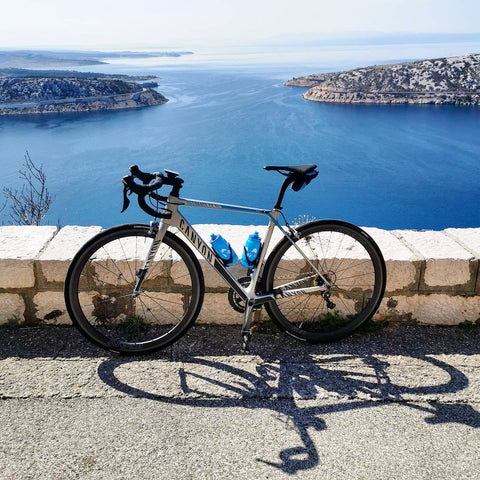 The best carbon road bike wheels 2021 under 500$
If you are looking for the best carbon road wheels 2021 under 500$, Alpha series wheels will be your best choice.
Alpha series wheels are equipped with high-quality Novatec Hub, Pillar Spokes and high-strength rim.
The best carbon road bike wheels 2022 under 1000$
As we all know, the price of carbon road wheels with DTswiss Hub on the market will not be less than 1,000$, but at ICAN Cycling you can buy the best wheels with DT swiss Hub for less than 1,000$.
Because we did not invest too much marketing expenses, which we reduced the cost of the product. That is the reasons why you can buy the best carbon road wheels under 1000$.Choose the carbon wheels according to your budget at ICAN.
The Best Carbon Road Wheels For Sale at ICAN Cycling
ICAN cycling has some decent carbon road wheels for sale. Click here to view the options of carbon road wheels for sale at ICAN Cycling. These wheels range across different prices and features. You'll find a design that suits your style and is a fit for your specific purpose.
Conclusion
Carbon road wheels are undoubtedly the best choice of wheels for your bike until novel technologies introduce another option. They provide everything a rider needs for a smooth, convenient ride. They are popular recently because more affordable options are available than before. If you're not using your bike for racing, you may look at other alternatives like aluminum. But why do that when you can use premium options used by professionals?
You can find carbon wheels for sale on ICAN Cycling at great prices, and you can then go on to enjoy a premium riding experience.