AERO 35 DT240 EXP/350
 Specification
Type: Road Bike Wheelset
Rims: AERO 35
Material: 100% Carbon Fiber Toray T700 & T800
Size: 700C
Rim:
Finish: UD Matt
Drills: 20/24 Holes
Outer Width: 29mm
Inner Width: 21.5mm
Depth 35mm
Profile: Clincher Tubeless Ready
Hub: DT240/350 Straight Pull hub
Spoke: Sapim CX-Ray Spokes
Spoke Count:
Front: 20
Rear: 24
Spoke Pattern: Front: Radial
Rear: 2-cross
Nipple: Alloy Color: Black
Cassette Compatibility: Shimano 10/11speeds
Recommended Tyre Size: 700 x 25-30mm
Wheelset Weight:

Total: 1364+-20g (DT350S)
Front: 595+-10g
Rear: 769+-10g
Brake Surface :3K Twill
Rider Weight Limit: 100kg
Guarantee: 2 years
In the box:
Rim
1 set of skewer
Brakes pads
Our new Aero wheel range is based on our best selling Fast and Light wheel range. The Aero 35 though is a new wheel depth that was not found in the FL series. It is our new hill climbing wheelset with an aero advantage for when you are on the flats.
Our Aero range took our best selling FL rim and made two significant improvements while keeping the rest of the qualities that you loved in our FL series. You still get a wide aero shape that is tubeless ready. The wheel rim is still stiff, and it is still strong, so what did we do?
How we improve Aero wheels
The FL range was constructed using Toray T700 carbon fiber. Our engineers went to work on our T700 layup and found the only way to improve upon it was to incorporate T800 carbon fiber as well. This combination saved around 100g per wheelset throughout the Aero range.
Our engineers also improve the brake track on the Aero range. The FL series of wheels had a brake track that could cope with up to 240°of heat. The new Aero brake track can deal with 300°. Perfect for the descents on those Alpine climbs you've just completed.
We lace our Aero 35 wheelset with Sapim CX-Ray spokes. CX-Ray spokes are industry leading. They perfectly combine lightweight and stiffness in an aero package. The perfect spoke for our wheels.
Now, you can pick from your choice of DT Swiss hubs. You can choose the lightweights 240S or the more affordable 350S. Both hubs come with sealed bearings and the DT Swiss stamp of quality.
All of this and you get our two-year warranty as well.
What should i choose ratchet 18T/36T/54T

DT Swiss hubs use star ratchets and are available in 3 different models with varying points of engagement.


18T - Deepest teeth, slowest engagement, least amount of maintenance, suitable for powerful riders.
36T - Happy medium, doubles the engagement points.
54T - Super fast engagement, but shallow teeth require more careful re-greasing and the thru-axle should be checked every ride.
EXP 36 - With only a singlel spring, making the hubs faster and lighter, more complete engagement of the 36 ratchet teeth for more precise contact, and therefore a longer lifespan.
EXP 54 - Upgraded from EXP 36 to gain incredibly faster engagement.
The more point the better?
The discussion about tooth count of DTSWISS hub gears has not stopped in many bike forums. But the best suitable for you is the best.
The more point the better? DTSWISS official has its own point of view:
Different gears have different engagement angle.
They affect: BACKLASH, PEDAL KICKBACK, for  more details, you can visit DTSWISS engagement angle technology 

THE CONCLUSION FROM DTSWISS

If we were to introduce a system with more points of engagement we would need to enlarge the construction of the hub, which eventually would lead to a significantly higher weight.
However, rather than minimizing the engagement angle, the overall performance of the system must be maximized. We still believe that a system with 36 points of engagement represents the best optimization within this three dimensional perspective in terms of reliability, weight and points of engagement.

We know that for some riders, e.g. trial riders, a small engagement angle is very important, therefore we offer a 54t conversion kit, reducing the engagement angle
to 6.7°.
The 36T  ratchet system pursues the balance of the weight,reliablity,point of engagement.
IS ICAN CYCLING WHEELS AND FRAME GOOD?
YES!Many customers have purchased wheels and frames of ICAN Cycling, and they give us many good feeback.All products undergo strict quality control and provide two years warranty.
What is the best tire size for my ICAN wheels?
The best tire size for your wheel, which depends on the wheelsets type, size and the conditions you plan to ride the wheel in.
If you focus on speed,aerodynamic, each carbon wheel will have a specific recomended tire width, which is listed on specific product pages under rim specs.
We find(Not necessarily 100% correct): With a broader external width, ICAN Cycling wheels roll most optimally with a 25mm/28mm (actual width) tire. For Jet wheels, we recommend 25mm (actual width) tires, but 28mm (actual width) tires are still an excellent choice. Unless a podium step hangs in the balance, the difference in the speed of the Jet, using a 25mm tire versus a 28mm tire, works out to only 0.05 kph. That's approximately 3 – 4 seconds over 40km.
HOW TO DISTINGUISH DISC BRAKES AND V BRAKES
Our disc brake product series are marked with disc, which means that this is a disc brake system. Otherwise, this product is a V brake product.
WHY THE SAME PRODUCT HAS DIFFERENT PRICES
The prices of the same products in different warehouses are different. We have prepaid taxes and freight for users who purchase products in overseas warehouses.
WHY THE WHEELSETS ARE TOO STIFF FOR HARDTAIL
The reason may be that the spokes tension of wheels is too high. Please check that the spokes tension to make it at a the proper range.
Why do i feel the freehub is a bit tight when backpedal
When riding for the first time, freehub needs to run in with the wheels. Just ride for a while, freehub will run well.
CAN ICAN WHEELS BE SET UP TUBELESS?
For ICAN's current line up of wheels, most of wheels is tubeless compatible. 
WHAT'S THE DIFFERENCE BETWEEN ICAN'S SERIES PRODUCTS?

About the difference,you can check the image.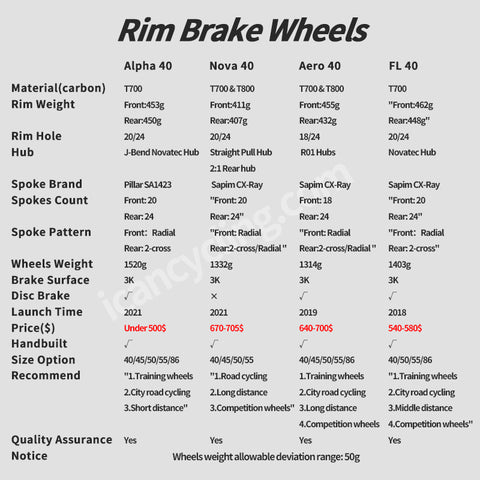 What is the difference between Alpha Disc and Aero Disc
The main difference between theses carbon road wheels is rim,spoke,hub.

1.Aero disc is lighter than Alpha disc,Aero disc use our superlight carbon rim. Alpha disc use our fast and light normal carbon rim.
2.Aero disc integrate Sapim CX-Ray Spokes,Alpha disc integrate Pillar SA1423 Spokes.
3.Alpha Disc with ICAN D21 Hub, Aero disc with ICAN D01 Hub.
What is the suitable spokes tension
MTB Wheels the front spoke tension :110 +-10 kilograms force
Rear wheel drive side :120 +-10 kilograms force
No drive side Rear :60% kilograms force of drive side Rear-wheel
Road bike wheels spoke tension:
front wheel: 110+-10 kg force
Rear wheel: 120+-10 kg force
Recommended maximum spokes tension: Less than 145 kgf
How to track my order online?
Once your order has shipped, a Shipping Confirmation email is sent to you with the tracking website and the tracking number. You can use this tracking number to track your order via the carrier's tracking site.

What is the processing time and delivery time for my order?

We will ship out the item within 36 hr with careful package after the processing time .and it takes about 3-10 days if the stock running out. The delivery time will epends on the courier method.
Noted:Due to the impact of the epidemic, the arrival time of the goods will be delayed.Due to increased demand, this product will ship in 7 – 8 weeks. If have any questions,please contact us in time.