Fat bikes have had a boom, but now their sales are growing again. The reason why more and more people want a fat bike is simply that they are fun. You can't help but have a huge smile on your face after going out for a ride on a fat bike. If you want a no-fuss bike that you can just get out and ride, no matter the conditions, then a fat bike is the bike for you.
In this article, we will write down all the details about the fat bike. All you have to know about all the parts that equip a fat bike.You will know why you should choose a fat bike to avoid more mistakes.
The difference between a fat bike and a mountain bike

How to pick a fat bike frame

How to pick fat bike wheels

How to pick a fat bike fork

How to pick a fat bike groupset

How to pick fat bike components
What is the difference between a fat bike and mountain bike?
The simple answer is that a fat bike has fatter tires than a standard mountain bike. That simple answer though misses out a whole pile of intricacies. Fat bikes tires are generally ruled to be those above 3.8" wide. To accommodate tires of this width, there needs to be changes made to frames and forks. To support tires that are so wide, wheel rims and hubs need to be much wider. The reason for this is that wheels need to be so much stiffer to hold the extra tire weight.
Original fat bikes cames with a standard 135mm rear end with a quick-release axle. As the market expanded, we started to see new hub and axle standards come to the fore. Generally, now a rear hub on a fat bike will be 170mm or 197mm wide.
Rims on a mountain bike have a standard width of 21mm. Fat bikes have seen rim width increase up to 90mm, and you'll need that extra width if you want to fit some 5" wide tires. To fir these tires, rims, and wider hubs, rear ends had to get longer.
These longer rear ends allow fat bikes to feel more stable as you're riding through uneven terrain, or even if you're letting fly on a downhill section. The rear end change also led to a change around the bottom bracket area.
To allow the stays clearance and to keep them stiff, the bottom bracket shell had to get wider. Fat bike bottom brackets have then grown from 73mm wide to 100mm wide, and now some that are 120mm wide.
Fat bike fork size is different
Forks also needed to go through this process. A standard mountain bike front hub is 100mm wide. Fat bikes jumped to 135mm, and now you'll find them with 150mm width. These width changes allow a fat bike to feel much stiffer than first looks will let you think. When you ride a fat bike, one of the geometry changes you'll probably notice is that they are not as slack as a modern trail bike. The reason is that a fat bike is not just about bombing downhill. You'll maybe have to cross bogs, swamps, snow, or sand on one. A slack bike would be less fun to ride on these environs.
How to pick the fat bike well
If you choose a best fat bike suitable for you,you should focus on the all factors below.
weight
usege scenes
price
What size fat bike do you want 
There is no getting around it; a fat bike will be heavier than a standard mountain bike. The extra width of parts will all to the weight of the bike. Many fat bikes will be constructed from steel, and some from aluminum. Steel will be heaviest but looks great to many people. Aluminum will be a little bit lighter but can be more prone to failure over repeated knocks.
That is why we have constructed our fat bikes from carbon fiber. A carbon fiber fat bike can be a lot lighter than you're expecting. It will also have a great ride feel, and carbon can last almost indefinitely — a great way to protect the value of your purchase.
Scenes to be used
The same as with most genres of bike it is worth thinking of how you'll ride the bike. There is no reason to buy a full suspension fat bike if you only want to ride along a beach. If you want to ride along a beach, or snow and the and the other traditional areas that fat bikes were ridden, then look at our Black Knight or Golden Knight models.
The Black Knight and Golden Knight models are 2 examples of classic fat bikes that roll right out the factory door to you. These 2 models will help you get set for bike packing, and the more you ride them, the more you'll see there are more than capable of taking on all terrains. If you want a fat bike with a nod to trail riding, then look at the upgraded Black Knight model. The Black Knight Pro features a Rock Shox Bluto fork, and it'll allow you to get faster on the downhills while still be a great pedaling bike for the uphill sections.
If you want to take the speed even faster, then we have a true trail full suspension fat bike based on our SN04 frameset, for you. Our full suspension fat bike will allow you to ride downhill faster than you ever imagined you could on a fat bike but it will also allow you to cross terrain that other full suspension mountain bikes will be unable to ride across.
As fat bikes use parts that are not mass-produced, there will usually be a price increase over regular mountain bike parts. At ICAN, we have worked hard to keep our fat bike specific parts affordable. Even though our parts are made from high-quality carbon by supplying direct to you, our prices will be comparable to many entry-level steel and aluminum parts from other brands.
We have also used our phenomenal experience with carbon to make sure that you pay for the qualities you need in carbon parts and don't pay for gimmicks. Our parts all exceed at what they do and should also leave you with a wallet that is still pleasantly full.
What size fat bike do you need
Fat bike sizing works pretty similarly to standard mountain bike sizing. If though you plan on bikepacking or major excursions and are on the cusp of a size, I'd recommend going up, unlike normal bikes where I would recommend going down.
The extra length will give you more room for bags and luggage, and will also bring you stability. After a long day in the saddle, or on a multi-day trip, having some extra stability is not something to be knocked. Having a bike that wants to keep you upright can be a godsend.
How to pick a fat bike frame
When people think about building their own custom fat bike, they start to think about weight and how to save it. One of the most obvious choices for most people is to buy an aluminum fat bike frame. An aluminum frame will seem to be the most affordable way to save weight.
What most people don't realize is that our high-end carbon frames cost a similar amount to most companies mid-range aluminum fat bike frames.
Aluminum is generally believed to have a 5-year fatigue life before it cracks. We will all know someone who has an aluminum frame that has lived longer than that but by and large that is the average length of life you expect. The fatigue life of a carbon fat bike frame is at the moment, believed to be infinite.
As we have already mentioned fat bikes, use parts that can be very different from those for standard mountain bikes, so if you plan to build your own custom fat bike, you'll need to make sure all the parts that you want will work in harmony with each other and will also fit each other.
Hardtail or full-suspension fat bike frame?
You want to pick a frame that suits the majority of your riding. If the majority of your riding time is spent at trail centers, we would recommend a full-suspension fat bike. It will make riding downhill a bit more fun, and you'll fear no drops on the way down.
You'll also want to remember that the tires bring you a fair amount of travel and rebound as well. So you don't need to look for a 140mm rear travel set up as you may on a trail bike. You'll also want to take more time for setting your bike up correctly, taking the time will bring you one of the best fat bike experiences money can buy.
If you want to adventure far and wide, or ride beaches, bogs and snow, then we'd recommend a hardtail fat bike. The hardtail will allow you to easily keep a nice pedal stroke and help you to sail across the worst terrain. You can then add a suspension fork if you fancy some trail center action.
If you're planning on buying a frame to replace a frame you already you'll need to consider how wide your rear wheels are. As we have already mentioned most fat bikes. You'll find most wheels are 177mm, 190mm, or 197mm wide. All of our frames will fit a 197mm hub to help bring maximum tire clearance to your bike.
As we've mentioned already fat bike fitting might be a bit subjective. If you're riding our full suspension frame, we would advise checking the standover to avoid any unnecessary injuries when ejecting from the bike on a downhill run. The standard advice of if you're on the cusp of a size, take the smaller one and make it bigger being what we'd follow.
If you're riding a hardtail and want a stable frame, go as large as possible. This will bring you stability and will also bring you comfort for hours on the bike. You'll still want to make sure you have standover clearance though.
What fat bike Wheels do you need
Most fat bikes wheels come with an aluminum rim. Aluminum is one of the bike trade's favorite ways to make wheel rims. Aluminum rims are easy to and cheap to manufacture. It is harder though to engineer all the qualities you want into aluminum rims though.
There is a material that does allow you to engineer all the qualities you want into a wheel rim. Carbon fiber allows engineers to build super strong and stiff wheel rims. There is also another advantage of this method. It allows us to build a lightweight rim.Buy carbon fat bike wheels here.
Lighter wheelsets are something that all fat bike owners want and thanks to our engineering processes and the fact that we sell directly to you, you can get carbon wheelsets at a highly affordable price.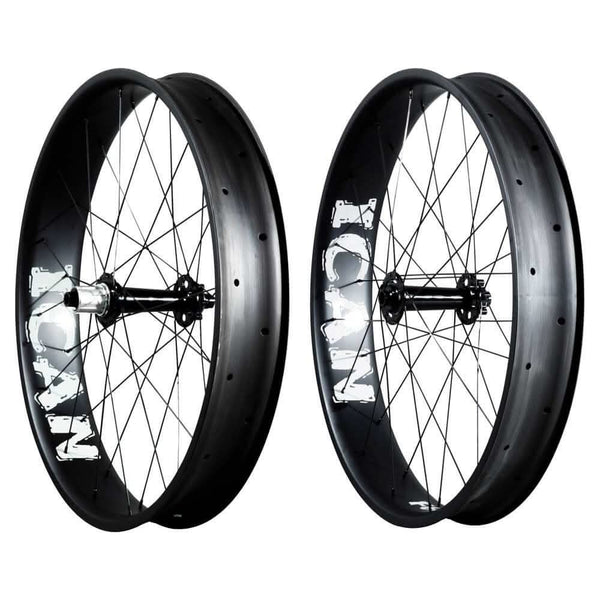 The wider the rim, the wider the tire you can fit. That also depends on whether your frame can clear the tire width as well. We offer 2 fat bike rim widths. 65mm or 90mm. 90mm is great for tires up to 45.0" wide.
Tires that wide on our rims will allow you to float across boggy, snowy, or sandy terrain. These are the tires to go for winter riding or riding in inhospitable areas. In summer fit some 65mm rims and try a narrow tire. You'll save some weight and make your fat bike feel like a plus bike.
If you fancy that plus bike feeling for summer, you can even try fat bike hubs on 27.5"+ or 29"+ rims. You've now got 2 bikes for the price of an extra set of wheels and tires.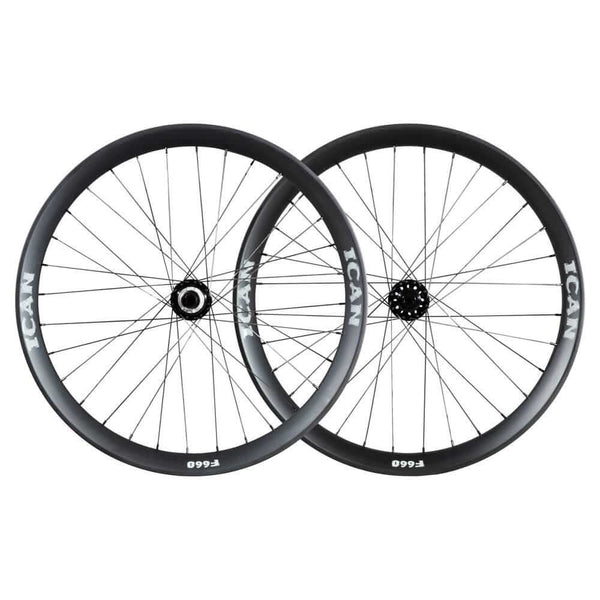 Our fat bike rims are tubeless-ready. Going tubeless is a great idea on a fat bike. If you are out on a trail, replacing a tube and pumping up at a fat bike tire is not fun. It can even be more of a work out than the ride you're on. Going tubeless will also allow you to go with lower tire pressure, which with a fat bike is even more important than on a standard mountain bike.
Fat bike tires and pressures
Fat bike tires now come in a variety of styles. You'll get full on knobblies for muddy conditions, and you'll get smooth treaded tires for those of us who fancy riding our fat bikes in more urban environments.
Tire choice can be very subjective, and if you favor a certain brand, feel free to carry that preference onto their fat bike range. The only thing to remember is that the more expensive a tire is, the lighter it should be, and the easier it should be to set up tubeless.
Tire pressure, again can be subjective, but you'll need to remember that as fat bike tires are so wide, they can easily change the handling of your bike, and the higher the pressure, the more you'll feel it rebound on you. You'll generally need to set tire pressures based on your weight and riding style.
For riding over soft ground, we would recommend starting your tires out at 8PSI. For general trail riding around 12-15PSI. For urban riding, you'll want around 20-25PSI. At the higher end of pressures, you'll have to be aware that your fat bike might develop a bit of self-steer. So, experiment with pressures and see how you get on.
We've already talked about rear hub sizing in the frame section. What you have to remember is that you'll need to know what your front wheel hub with and style is as well. You'll find different thru axles options and quick release options also linked to hub width.
We tend to use the 150x 15mm front wheel thru axle. You'll need to make sure your current fork fits that or have a look at our rigid carbon fat bike fork. Rear-axle width we offer various widths and options of thru and quick release axles. Make sure you pick the correct model for your frame, and if you need help, please contact us.
How to Pick up a fat bike fork
Fat bikes tend to come with a rigid fork or a suspension fork. Rigid forks haven't disappeared from fat bikes in the same way as they have with standard mountain bikes for two main reasons. The first is that with the inherent suspension supplied by the tires, a lot of people don't see the need for a suspension. The second reason carries on from this, in that a suspension fork will add extra weight when you perhaps don't need it.
If you like flying downhill though, you might want to try a suspension fork. The fork will help keep your wheel in contact with the ground, and it'll also give your wrists a break for a bit on the roughest of trails.
As we mentioned above, you'll need to make sure that your front wheel will fit in your fork. Fta bikes wheels tend to come with a 135mm or 150mm front hub. The 150mm front hub is now becoming the favored option for most manufacturers, as it allows an easy change between rigid and suspension forks. We offer both 135mm and 150mm carbon forks to suit what you need.
What size travel for your fork?
Fat bike tires are generally believed to bring around 30mm of travel, and it is worth remembering that when you're buying a suspension fork for your fat bike. Essentially a 100mm travel fork will bring you 130mm of travel, which will be more than enough for most trails. With the grip given from the tires and the tracking ability of a 100mm fork you'll find crashing becomes something, you have to do, rather than spend all your time trying to avoid crashing.
How to pick a fat bike groupset
Generally picking a groupset will be the same as when you pick one for your standard mountain bike. If you prefer SRAM, buy SRAM. If you prefer Shimano, buy Shimano. Going with a modern 1x system should still bring you a lot of gear range but should help stop you getting mud and debris stuck around the bottom bracket.
A rear derailleur with a clutch will help a lot on a fat bike. You'll by its nature be riding a lot of unforgiving terrain and any feature that helps keep your chain is well worth the money. SRAM's Type 2 derailleurs will have a clutch, and so in Shimano, you'll want to look for a Shadow Plus derailleur.
How to pick fat bike components
Components again can come down to how you subjectively feel about certain parts. We find carbon parts help to further bring down the weight and give a great ride feel on fat bikes. If you don't want a dropper post, a carbon post can help to remove certain vibrations before they get to you and add a little flex into the system for added comfort.
A carbon handlebar will also help to keep any vibrations from fatigued your wrists and arms. Combine this with a carbon stem, and you'll have a very light cockpit that brings great steering control.
With a bit of careful thought, it is possible to put together a carbon fat bike that will be light enough to race. Indeed you'll find many people using them at endurance events, and not just fat bike specific ones.
If you make your bike light and combine it with huge fat bike tires, you'll find a bike that highly rewards you regardless of where you ride it. Is it time to upgrade your fat bike to some carbon fiber parts?